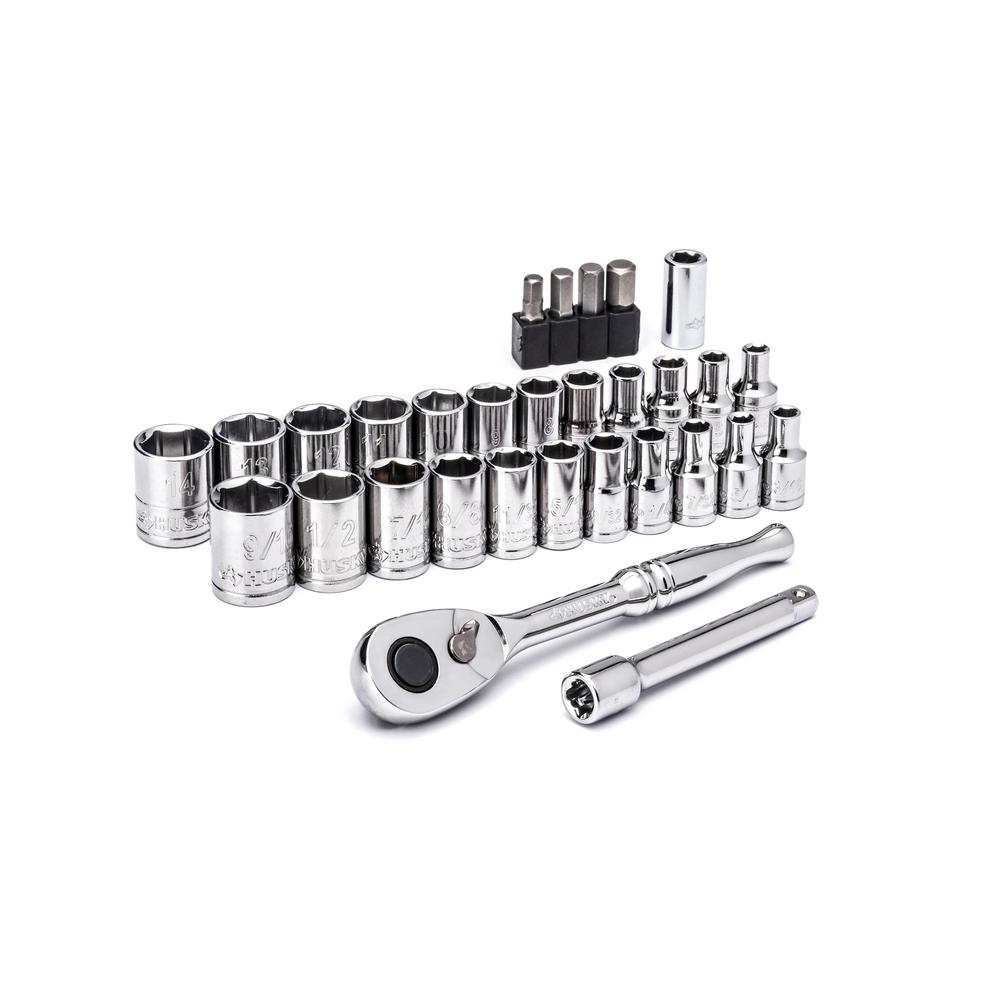 Save 50% off regular price at Home Depot!
The Husky 30-piece 1/4 in. Drive SAE/Metric
Socket Set
is forged from Chrome Alloy steel for outstanding durability and strength. The 23 different sockets allow you to tackle a wide range of basic fastening or repair projects. This Husky 30-piece set is ideal for small jobs around the house, shop and garage.
Set includes: (1) 1/4 in. Drive 72-tooth quick release ratchet, (1) 1/4 in. Drive 3 in. extension bar, (23) in. drive 6 point sockets: SAE: 5/32 in., 3/16 in., 7/32 in., 1/4 in., 9/32 in., 5/16 in., 11/32 in., 3/8 in., 7/16 in., 1/2 in., 9/16 in., 4 mm, 5 mm, 5.5 mm, 6 mm, 7 mm, 8 mm, 9 mm, 10 mm, 11 mm, 12 mm, 13 mm, 14 mm, (4) bits and (1) bit adapter
72-tooth ratchet need an only 5° arc swing to turn fasteners
Quick release button allows sockets and drive tools to be easily removed from the ratchet
Full polished chrome finish easily wipes clean of oil and dirt
Sockets feature chamfered lead-ins help to provide fast and easy placement onto drive tools and fasteners
Chrome finish provides corrosion resistance and added durability
Large hard-stamped size markings allow for easy readability
Chamfered lead-ins help to provide fast and easy placement onto fasteners
Standard length sockets SAE and metric sockets
FREE in-sore pickup!