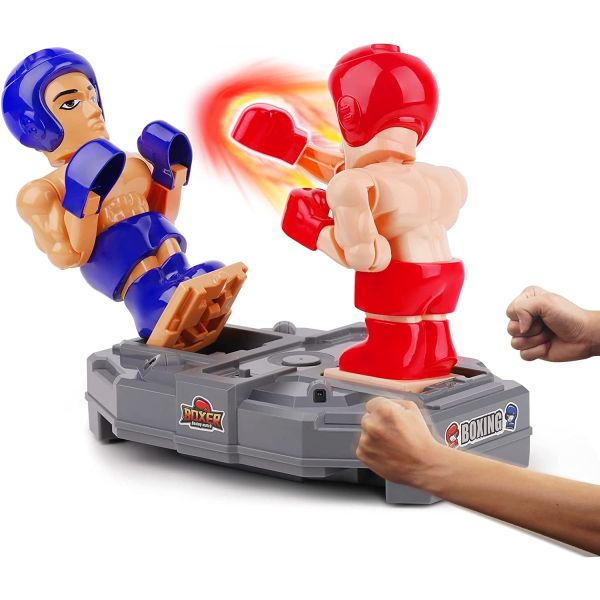 This would make a fun gift for someone!
Motion Sensor - The robots respond to movement made by your hand or fingers. Wave your fist and start the boxing match!
VS Player: This is a super interactive toy. Turn the machine to Switch 2 and your child can play a fun game together with adults or their friends. A fun, competitive and additive game of strategy, skill and chance. Provide your kids more exciting leisure time and release the excess energy of the child.
VS Machine: You can also play in single-player mode versus the machine by switching to Switch 1. It's a great way for your child to release extra energy on his own. There are 5 levels of difficulty in single-player mode combat, beat each level and move on for a more difficult challenge. In single-player mode, Position 1 is for the machine and Position 2 is for the player.
So Many Uses: You will want to take this everywhere! Have a good time at your home, office, travel or anywhere, anytime---- The toy can be set on any desktop, tabletop or floor to play. Have fun and enjoy this boxing game at any time with a battle activity that is perfect for kids, children, adults, and anyone. Bring excitement to you, your kids and the whole family.
Easy Assemble: Insert the boxer heels first into the empty slot in the base. Then, push the front down as well. To remove the boxer, simply pull his head back and he will pop out of the base. 4 AA batteries required; battery compartment is located on the underside of the base.
Gift Choice: Great as a party game, for indoor games, lawn games, camping games, Christmas games and even tailgating games. Warmly gift for birthday parties, festivals and holidays (Children's Day, Christmas, Halloween, Thanksgiving & New Years). Give your child a gift that creates endless happy moments.
BONUS:
Check out these other
robots on sale
while you are here and save some money!
TONS of Limited-Time EXCLUSIVE deals have been posted to my Telegram channel! These deals include limited-time offers, coupon codes, and Amazon deals! It's FREE to join so you don't miss out! 👉 Sign up here!
═════════════════════════════════
PROMOTE YOUR BRAND WITH US!
═════════════════════════════════
Want to showcase your product to the Closet of Free Samples audience? Then check out my available advertising options and email me at

This email address is being protected from spambots. You need JavaScript enabled to view it.

to discuss!
═════════════════════════════════
FOLLOW CFS ON SOCIAL MEDIA
═════════════════════════════════