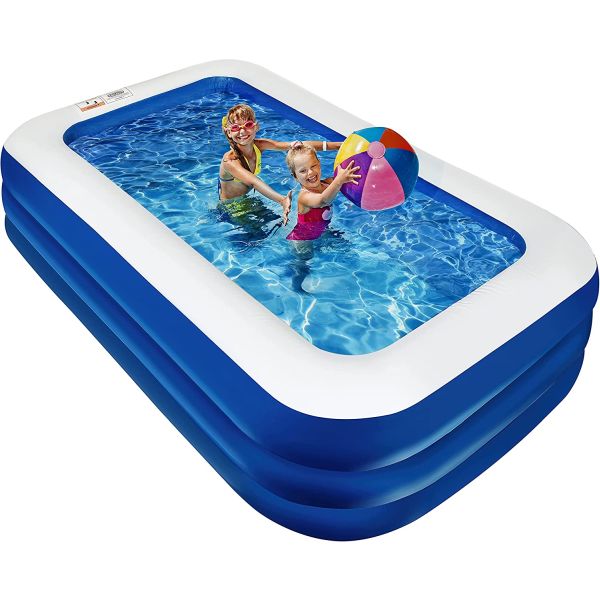 SPECIAL PRE-ORDER ITEM - This item will ship on April 11th - Inflatable Swimming Pool for Kids and Adults Size - Can also be used as a ball pit inside! - 95"x 55"x 25" - enough room to comfortably fit 2 adults or 4 children - Great deal because you will receive a random design on the outside, like ocean scenes etc - SHIPS FREE!
Summer is just around the corner, and we have the perfect deal for you! Get ready to make a splash with our inflatable swimming pool!
STAYS FIRM AND INFLATED: The walls of this blow up pool have three different layers to be pumped with air, making it more durable and sturdy. The valves are secure and hold in the air for a fully inflated swimming pool.
SPACIOUS PLAY AREA: This inflatable pool measures 95"x 55"x 25"; enough room to comfortably fit 2 adults or 4 children. Perfect backyard pool for splashing kids, relaxing adults, and family water fights.
INFLATABLE FLOOR: Sit or stand on the pillowed floor for a cushioned and relaxing time in the sun. This inflatable pool also has an inflatable bottom for a softer footing with pleasant protection.
EASY SETUP EASY STORAGE: The air pockets inflate in 4-5 minutes with an electric pump (not included). When ready for storage, the bottom drain pipe easily drains the water. Let the sun dry wet patches, and then the kids' pool can be folded for compact storage.
ENDLESS FUN:
This is how to get the family out of the house! Use the blow up pool as a swimming pool for kids or lounge pool for adults. You can also enjoy the kiddie pool indoors as a ball pit or toddler play zone.
Weight per box: 16.68lbs
Dims of box: 17.17 x 13.7 x 7.36
BONUS:
Check out these other
pool deals
currently available while you are here and save some money!
🌟 If you like Amazon deals & coupon codes join my Telegram Channel (It's FREE!)! 👉 Sign up here!
═════════════════════════════════
PROMOTE YOUR BRAND WITH US!
═════════════════════════════════
Want to showcase your product to the Closet of Free Samples audience? Then check out my available advertising options and email me at

This email address is being protected from spambots. You need JavaScript enabled to view it.

to discuss!
═════════════════════════════════
FOLLOW CFS ON SOCIAL MEDIA
═════════════════════════════════