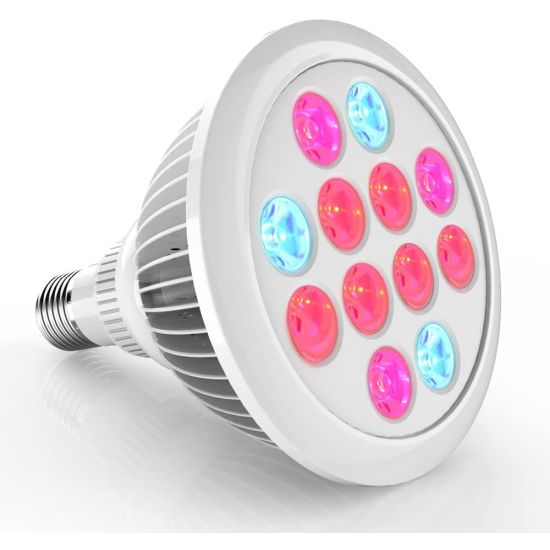 LED Grow Indoor Sunlight Bulbs - Replicates the sun or your plants, herbs, veggies and more for indoor growing. This is a STEAL @ HALF OFF Retail! Even better, order 6 or more and price drops all the way to $9.99 each! - SHIPS FREE!
Great deal for helping to grow your plants!
Blue light around 460nm and red light around 660nm are the best wavelength for plant growth, plays a key role in plant growth and development. Suitable for aqueous solution cultivation, gardening, family balcony seeding, breeding, farm, flower exhibition, garden, bonsai, etc. This light is suitable for bananas, flowers, orchid, tobacco, seaweed, green peppers, tomatoes, grapes, lettuce, lettuce and other herbs, vegetables, flowers, etc. In an environment of no sunlight, the distance between the lamp and the plant is 0.5 m-1M, which depends on the plant. You could run it for 8-16 hours. An area of 2-4 square meters is an idea space for one light, such as balcony, greenhouses, darkroom etc. It also suits the big awning planter or higher request planter environment. Budding to Harvest: The grow light promotes growth at all stages of plant life from flowering to fruiting. The lamp is also suitable when growing with either seeds or clones. High Efficiency: LED lights use far less energy and emit less heat than fluorescent lamps. This means you can cut down on your power bill whilst also protecting your growing plants.
Power: 24W
Working environment: -20-40 ?
The number of lamp beads: 12
Working Current: 550mA
Light Color: Red, Red, Blue
Input voltage: 100-240V AC
E27 24W Grow Light Three Wavelengths tailored To Maximize Plant Growth In A Way That Fluorescent Lights Can't Match, Suitable For Aqueous Solution Cultivation, Gardening, Family Balcony
The main material is composed of steel shell with white plastic shell. Lamp beads life of 50,000 hours
Has a built-in driver power supply. Cooling method used the new metal case cooling. Cooling effect is very good. Ensures the normal work environment of beads, prolong the life of the lamp, and improve the effectiveness and stability of light source on plant.
The 12 LED 2W high power lamp beads composed of red wavelength selection 620nn-630nm or 640nm-660nm, blue wavelength selection of 460nm-470nm.
The product with easy installation and cost-effective. Safety, environmental protection without pollution and harmful substances.
TIP:
Check out these other
plant deals
while you are here!