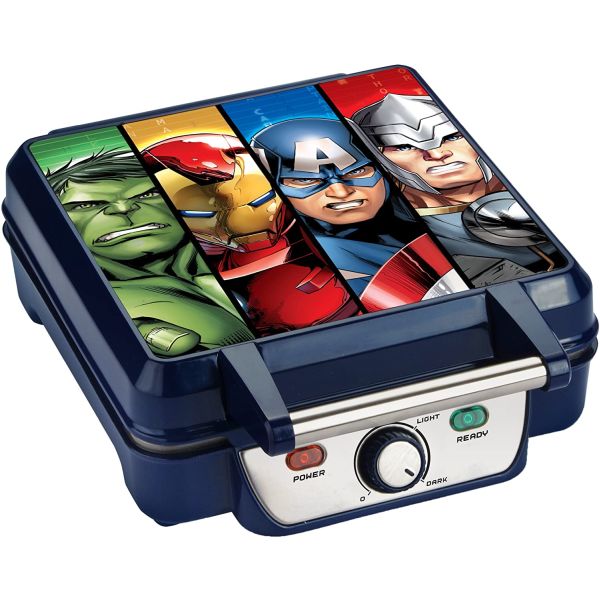 If you like waffles and Avengers, you need this!
Start your day like a superhero with a plate full of golden brown waffles emblazoned with Avengers icons. The vibrant graphic features Hulk, Iron Man, Captain America and Thor. Each waffle is a 4.25" square imprinted with a different icon including Hulk's fist, Iron Man's helmet, Captain America's shield and Thor's hammer.
Nonstick Baking Plates
Spritz with only a little of your favorite cooking spray, and you're good to go. The waffle will slide right out, giving you and your houseful of heroes more time to eat and fight bad guys. Cleanup is easy, too - just wipe down with a damp cloth or sponge, and you're all ready for the next mission.
Power Indicator Lights
Safety first! The latest and greatest in Marvel comic book technology brings you these power indicator lights - one to let you know when the waffle maker is plugged in (and HOT), one to let you know when the temperature is just right for waffle-making.
Four Delicious Waffles!
Suffering from an invasion of non-Avengers-themed breakfasts? Captain America, Iron Man, Thor, and Hulk are all here to save the day. Reap the mouth-watering rewards for your efforts - and reap the accolades from your adoring public - with these tasty golden-brown waffles. Avengers Assemble!
Berries and Butter and Syrup!
Cover your waffles with your favorite waffle toppings. Strawberries and blueberries are always a favorite, but don't forget maple syrup, or fluffy whipped cream - or even bacon, for the real Avengers-approved experience. Get creative with it.
Bakes 4 Different Waffles Imprinted with Superhero Icons
Adjustable Browning Control
Nonstick Baking Plates
Power and Ready Lights
Convenient Cord Wrap
Unit: 13" x 9.7" x 4", Blue
Did you find this post helpful? If so, it would be great if you could show some support by following

Closet of Free Samples on TikTok

(as well as my other social media accounts @closetsamples) and by checking out

my Etsy shop

! As a small creator, all your support makes a difference! Even a simple share of this post to your friends helps! Thanks so much!