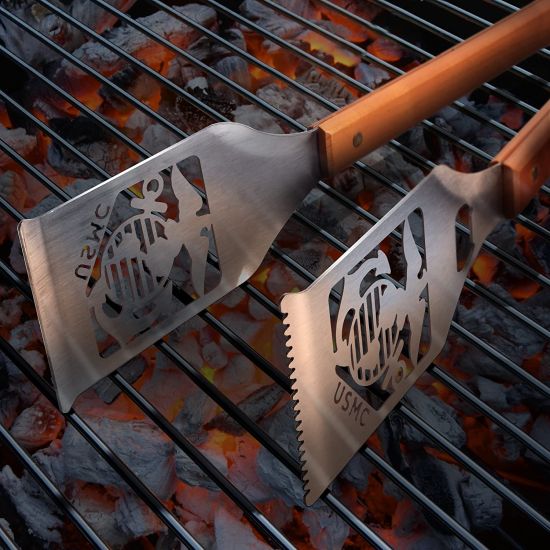 Military Branch Grill-A-Tong Stainless Steel BBQ Tongs - Choose from Army, Navy, Marines And Air Force Style - VERY high quality, but limited amount of each branch available - Also a great gift for that military man or woman in your life! - Order 2 or more and SHIPPING IS FREE!
These would make a great gift idea for a veteran or any active duty service member!
Laser-Cut Technology
What sets The Grill-A-Tongs apart from the field? Your team logo is cut ALL the way through both stainless steel blades. We don't cut corners. Just logos.
Built to Last
Grill-A-Tongs are made with brass rivets and stainless steel running throughout the hard maple handle. The extra long handle keeps you back from the grill.
Officially-Licensed Logo
How do we do it? We take your team's official logo and carefully adjust the art so it will stamp out of the background. We make it work, no matter how complex the logo is.
Bottle Opener Included
Grill-A-Tongs don't just flip burgers and rotate chicken. It also comes with an integrated bottle opener, which comes in handy as you wait for your food to cook.
Dimensions: 18 3/8" x 3 1/8"
Unique laser-cut design
Heavy-duty stainless steel
Hard maple handles with durable brass rivets