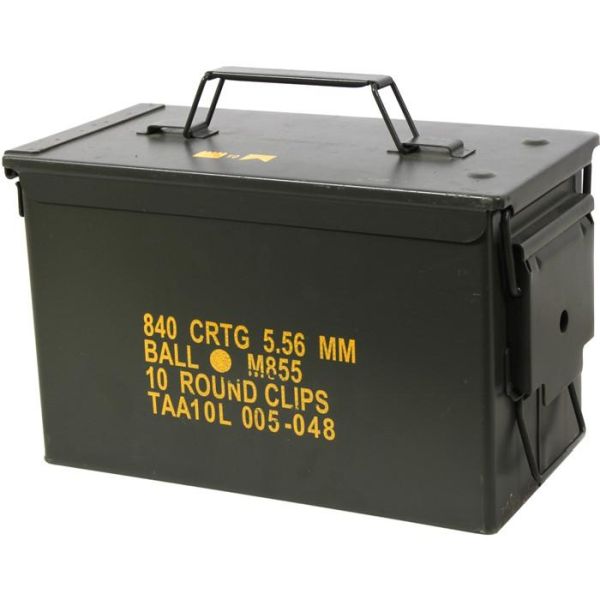 Yes, this US military surplus item was originally made to hold ammo, but you can use it to hold and store anything you like!
Used in fair condition. Original US Military Surplus. .50 Cal ammo can. Metal ammo can original military surplus. Ammo can are ideal for storage, safe transportation of shotgun and rifle shells, tools, perishables and hunting camp items just to name a few. Dimensions 11" x 7" x 5.5" (inches). M2A1. This product is GSA Compliant.
The steel M2A1 Ammunition Can / Box (also called Chest Ammunition: M2A1 or Box, Metal, M2A1) was introduced during the 1950s for .50 caliber machine gun ammunition, replacing the M2 .50 cal. ammunition can / box.
The M2A1 ammo can was designed to hold link belts of 100 cartridges of .50 cal. ammunition for the M2 Browning machine gun, but was in fact utilized to transport and store many other ammo calibers and packaging.
Construction details of the M2A1 .50 cal. ammunition can / box: Steel material, seam welded. Latch, hinge, handle spot welded to body. End-opening lid with quick release hinge. Quick release latch. Rubber gasket under lid makes near waterproof seal when latched closed. Flat sides and lid. Metal bar handle attached to the lid by rectangular wire loops so it can fold flat for stacking or lift up for easy carry. Lid skirts protect contents when lid is partially opened.
The lid skirts originally angled down from the hinge end, then ran parallel to the top as the skirt approached the latch end. Later model M2A1 boxes have a lid skirt that is shorter and parallel to the lid for the full length.
The M2A1 ammunition box has been used by the U.S. military for small and medium caliber cartridges, for artillery fuses and more: Some examples are Cartridge 5.56 mm bandoleers and linked, Cartridge 7.62 mm bandoleers and linked, Cartridge .30 caliber carbine, Cartridge .50 caliber linked, Cartridge .38 special, Cartridge 9mm (20 cartons of 50), Cartridge .45 ACP, Cartridge 12 gauge shotgun shell, Cartridge .22LR.