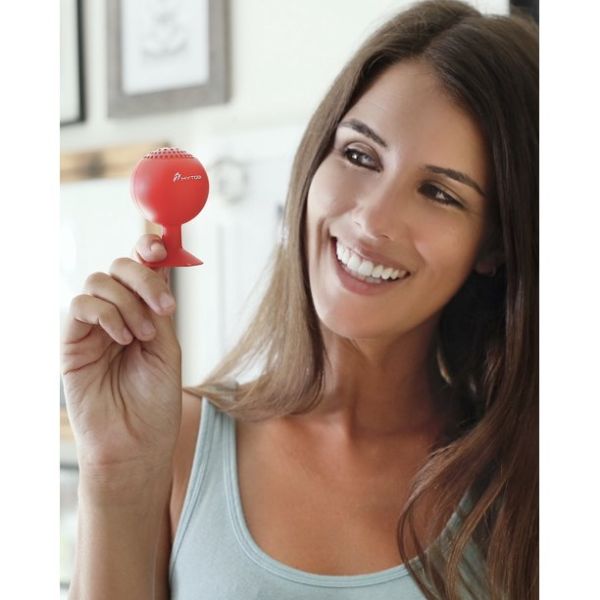 This is a nifty little find perfect for the summer!
Ultra Portable Mini Bluetooth Speaker The bright, bold red color of the HYTOBI Mini Wireless Bluetooth Speaker catches the eye while the impressive sound quality catches the ear. Quickly and conveniently enjoy your favorite music by pairing this wireless Bluetooth speaker with your mobile device. Its ultra portable size makes it easy to bring this Bluetooth speaker with you so you can listen to music whenever and wherever you want. A handy suction cup base adheres to a wide range of surfaces, including countertops, walls, mirrors and more. If your vehicle doesn't already have Bluetooth, stick this portable speaker in your car to listen while you drive or position it on the bathroom mirror for background music while you get ready for a big night out. A rechargeable lithium battery keeps the music going. To charge your portable speaker, simply attach the included mini USB cable to the speaker and the included power adapter and wait for the red LED light to turn off, signifying a full charge has been reached. The vibrant coloring, smooth surface and quirky rounded shape of this fun wireless speaker offer a sleek, contemporary feel ideal for students and young adults. And with a small price to complement its small stature, this mini Bluetooth speaker makes a great gift or stocking stuffer for kids.
Ultra portable size of this mini Bluetooth speaker lets you enjoy your music whenever and wherever you want
Bluetooth capability allows you to pair this wireless speaker with your mobile device to access your stored music
Built-in rechargeable 200 mAh lithium battery with included USB cable and power supply keep the music going
Suction cup bottom adheres to surfaces such as walls, countertops and mirrors to create a stable base
Vibrant color and modern design appeals to contemporary consumers
Random Color
TIP:
Check out these other
speakers on sale
while you are here and save some money!