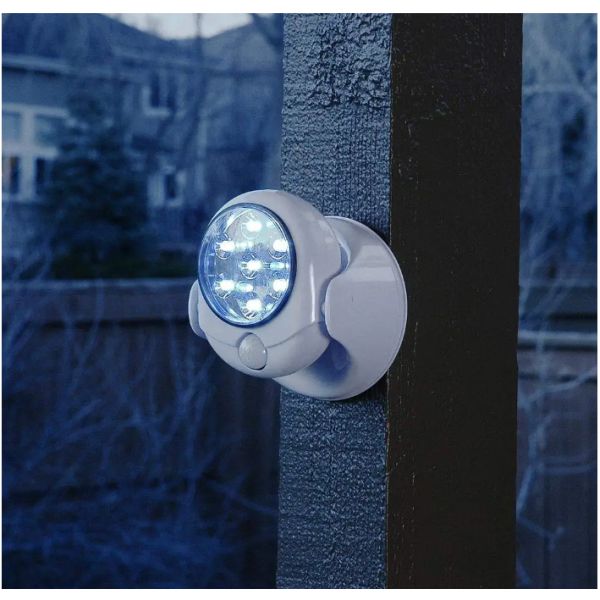 These lights are so handy for around the house or in the yard!
Novelty Lights presents this motion sensor activated LED spotlight. Each spotlight uses 4-AA batteries and is made with an automatic timer as to not waste battery life. Mounting materials are included which are a 3M adhesive pad with plastic removable pad and three screws with rubber plugs. Perfect for adding security light around your backyard, RV park, campsite, inside your home, or any place that can use a strong lighted presence.
Applications
Camper, RV, Campsite, Backyard Spot Light, Front of House Spot Light, Basement, or Any Place That Could Use a Motion Sensing Spot Light
Security Spot Light
Works great for providing a motion activated safety security spot light. This LED spotlight provide ample light so that you can see where you are going at night and also provides light to act as a deterrent any intruder.
Specifications
Battery Operated Motion Sensor Activated Security Spotlight
Uses 4-AA Batteries (Not Included)
Made of High Quality ABS Plastic
Automatic Timer FunctionStays Lit For 30 Seconds After Motion Activation
Comes with a 3M Adhesive Pad with Plastic Pad, Mounting Screws with Rubber Plug
Color: Pure White 6000K
Made with 7 Straw Hat LED's
Motion Sensing Range: 9.8 Feet
BONUS:
Check out these other
lights on sale
while you are here and save some money!
Did you find this post helpful? If so, it would be great if you could show some support by following

Closet of Free Samples on TikTok

(as well as my other social media accounts @closetsamples) and by checking out

my Etsy shop

! As a small creator, all your support makes a difference! Even a simple share of this post to your friends helps! Thanks so much!