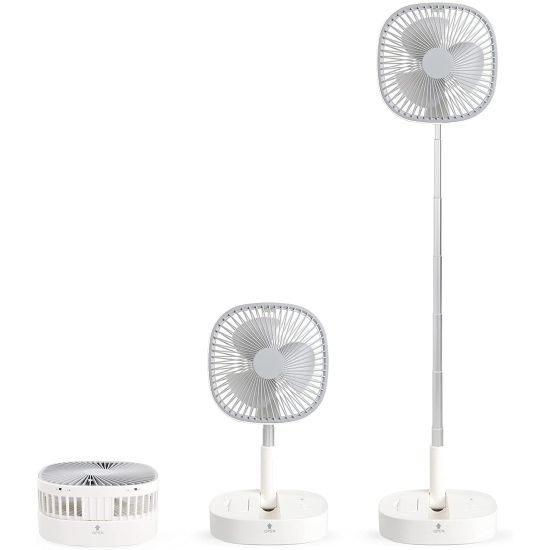 Portable Rechargeable Foldaway Pedestal Fan - This thing is awesome! Can be used as a compact box fan on your desk / night stand, or extend into a tall pedestal fan. Oh, and it can rotate too! Use plugged in or simply utilize the rechargeable feature and use ANYWHERE, even outdoors! Super portable so you can take it with you on the go, for those of us that need a fan to sleep (and hotels for some reason don't understand that!) - Order 3 or more and SHIPPING IS FREE
Grab this before the summer comes!
Multifunctional Standing Fan With Remote
Standing Pedestal Fan with Remote - Foldaway Usb Desk Fan
Why Magesh Standing Fan? You may encounter most situations where you need to move your fan to keep it cool, Traditional fans are too bulky, And also need a removable socket, If the power goes out on a hot summer night It's even more terrible without a fan. Summer is a good time for vacation, We will go camping, picnics, barbecues, parties, Without a fan to create a cool environment, It's great if there is a removable fan at this moment
Don't worry, Our portable standing fan is your perfect solution. The foldable pedestal fan is extremely easy to carry and can be placed in your school bag. The 7200 mAh rechargeable battery supports 5-24 hours of working time, depending on the wind speed. Support usb output, outdoor can be used as a portable charger.
Magesh Standing fan can not only bring great convenience to your outdoor life.It is also a very good choice indoors. Whether it's home or office.
Super Quiet Office USB Desk Fan
1. Unique foldaway design, mini, quite portable
2. Super quiet, make your sleeping more silent
3. 3-in-1 functions, can be a Table Fan, Stand Fan, Pedestal Fan
4. Detachable structures, allows you to easily clean the fan when it becomes dirty after using it for a whole summer
5. Best choice for your bedroom sleeping, office working, fishing, camping and travel.
Product Parameters
Material: Aluminum alloy & ABS plastic
Battery: rechargeable Lithium battery 18650
Working time: About 5 ~ 24 hours
Charging time: About 5 hours
Noise decibel: About 30 ~ 40db
Name: Receiving remote fan