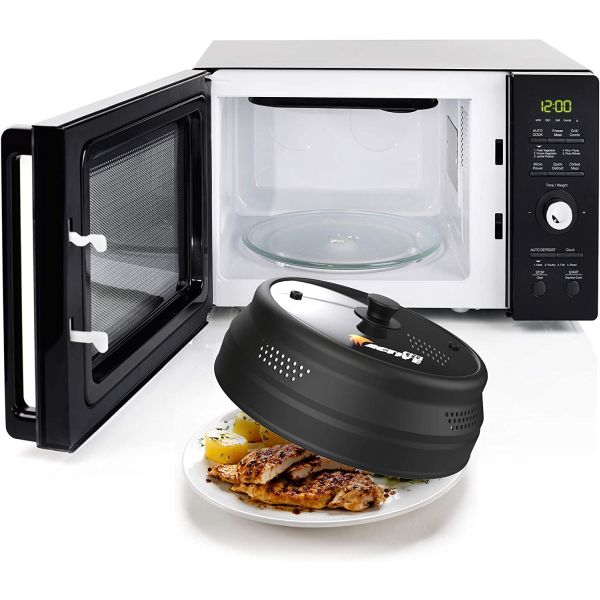 Premium Silicone and Glass Collapsible Microwave Splatter Cover - This is SOOOOOO much better than a paper towel over your food! - You can also use this to cover pot on the stove - Currently $40 on amazon with thousands of 5-star reviews! GREAT deal from us because you will get black or red at random - SHIPS FREE!
This is a must in our microwave!
Our microwave splatter cover is ideal for preventing food splattering. This Microwave cover for food 10. 5" L x 10. 5" W x 3" Perfect for 6-7-8-9-10 inch Plates and Bowls.
No more wet food with 98 Hole Ventilation. While Regular Magnetic Vent Cover has just a few holes and the food gets wet, Our Microwave food cover has 96 extra side steam vents. With this Collapsible microwave food cover you keep your kitchen tidy.
Does not add taste to food like others microwave plate covers for food. You will love this glass microwave plate cover because provide see-through and can take the heat without melting up to 450°F. Dishwasher safe, 100% BPA .
While cheap microwave plate covers are made of plexi-glass / plastic, making the microwave lid highly sensitive and easily breakable, Ezy Active splatter guard for microwave is carefully crafted from TEMPERED GLASS & silicone, truly making it STRONG & Thermal Shock-Resistant.
═════════════════════════════════
PROMOTE YOUR BRAND WITH US!
═════════════════════════════════
Want to showcase your product to the Closet of Free Samples audience? Then check out my available advertising options and email me at

This email address is being protected from spambots. You need JavaScript enabled to view it.

to discuss!
═════════════════════════════════
FOLLOW CFS ON SOCIAL MEDIA
═════════════════════════════════