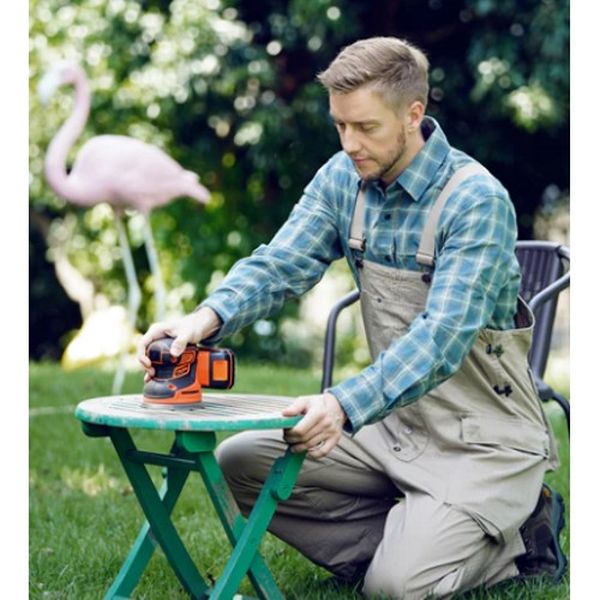 Introducing the
Pro Grade Cordless Random Orbital Sander With Dust Suction System
, now available at an unbeatable price of only $34.99, a significant
53% discount
from its regular price of $75. If you're looking for a versatile and efficient sanding tool, this is the perfect choice for you. With its exceptional features and performance, this sander will revolutionize your sanding experience and deliver outstanding results.
One of the standout features of this random orbital sander is its built-in brushless motor, which ensures a remarkable five times longer service life compared to traditional brush motors. This not only guarantees the longevity of the tool but also provides an impressive 20% increase in sanding efficiency. With a powerful 6-speed control ranging from 6000 to 12000 opm (orbits per minute), the Tacklife random orbital sander excels in both rough and delicate sanding tasks. Whether you're removing old paint or varnish from wood, smoothing drywall, or refining the edges of a plank, this sander has got you covered.
Comfort is key when it comes to sanding, and this cordless orbital sander delivers in spades. Its well-balanced ergonomic grip and lightweight 5.2-inch low-profile body make it a joy to hold and control. The sander's separate counterweight design minimizes sanding vibration, reducing work fatigue and enabling you to work for longer periods without discomfort. Plus, with its cordless design, you have the freedom to work anywhere, anytime, without the hassle of cords tangling or limiting your movement.
Achieving a smooth and flawless finish is effortless with the Pro Grade Cordless Random Orbital Sander. Thanks to its unique dual brake system, the sander provides a soft start, preventing sandpaper from flying out and surface scratches when starting the tool. The 0.11-inch large random orbit ensures fast material removal and a swirl-free finish. With just one click on the easy-to-reach dust-sealed button, you can effortlessly control this little beast and achieve exceptional sanding results.
But that's not all—the Pro Grade Cordless Random Orbital Sander also features an optimized dust collection system. Equipped with an 8-hole hook and loop pad and a micro cyclone dust collector with a filter for fine dust, this sander ensures up to 80% dust collection efficiency. Say goodbye to messy workspaces and hello to a clean and healthy working environment. Additionally, the sander includes a standard 1-1/4-inch dust port, allowing you to easily connect it to a vacuum hose for even more effective dust extraction.
When it comes to performance, durability, and convenience, the Pro Grade Cordless Random Orbital Sander With Dust Suction System truly stands out. With its unbeatable price of only $34.99, you won't find a better deal anywhere else. Don't miss out on the opportunity to transform your sanding experience and achieve professional-level results.
Order your Pro Grade Cordless Random Orbital Sander today
and take your sanding projects to the next level. Your satisfaction is guaranteed!
BONUS:
Check out these other
tools on sale
while you are here and save some money!
🌟 If you like Amazon deals & coupon codes join my Telegram Channel (It's FREE!)! 👉 Sign up here!
═════════════════════════════════
PROMOTE YOUR BRAND WITH US!
═════════════════════════════════
Want to showcase your product to the Closet of Free Samples audience? Then check out my available advertising options and email me at

This email address is being protected from spambots. You need JavaScript enabled to view it.

to discuss!
═════════════════════════════════
FOLLOW CFS ON SOCIAL MEDIA
═════════════════════════════════