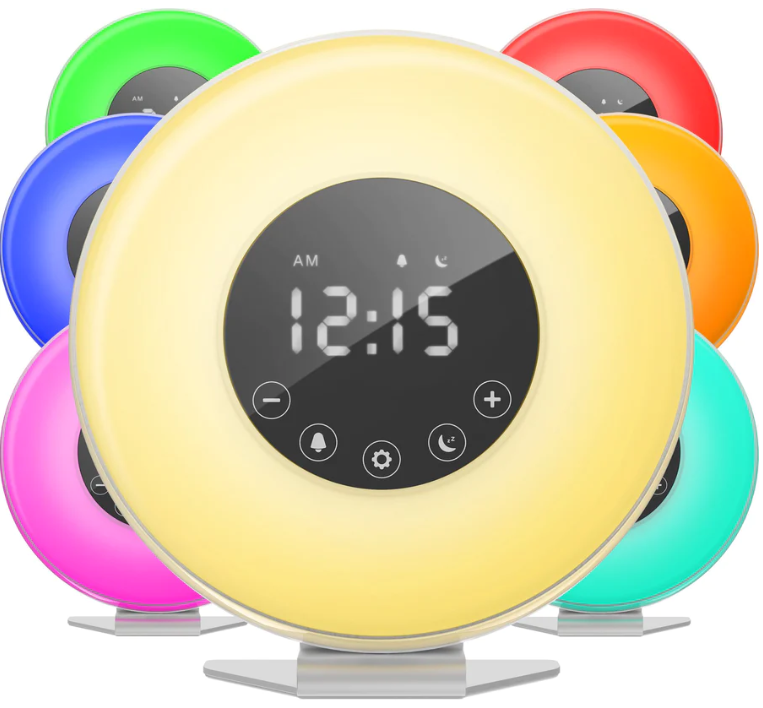 These are so neat!
Rise up bright and early with this marvelous alarm clock. A softer alternative to the sudden and intense-sounding alarms, this clock uses carefully chosen gentle lights and sounds to ease up the waking up process. Because how you start your day really does matter.
Now you can be woken up with the relaxing sounds of the ocean or lively bird sounds, along with a gradually increasing light that starts 30 minutes before the alarm goes off. Or go to bed with the sunset stimulation that smoothly dims the room as you drift off to sleep.
It features a vibrant design with 8 emitting colors that can double as a table or bedside lamp during your non-sleep time. When you're in the mood for a relaxing playlist or catching up with recent events, tune in to the FM radio and set your preferred station.
It's completed with a 12 or 24-hour time display, 3 brightness options, and an easy-to-use snooze button that turns off the sounds and lights for 5 minutes.
4 x 7 x 4.1 inches
8 Color Light Options
3 Brightness Levels
BONUS:
Check out these other
alarm clocks
on sale while you are here and save some money!
Did you find this post helpful? If so, it would be great if you could show some support by following

Closet of Free Samples on TikTok

(as well as my other social media accounts @closetsamples) and by checking out

my Etsy shop

! As a small creator, all your support makes a difference! Even a simple share of this post to your friends helps! Thanks so much!