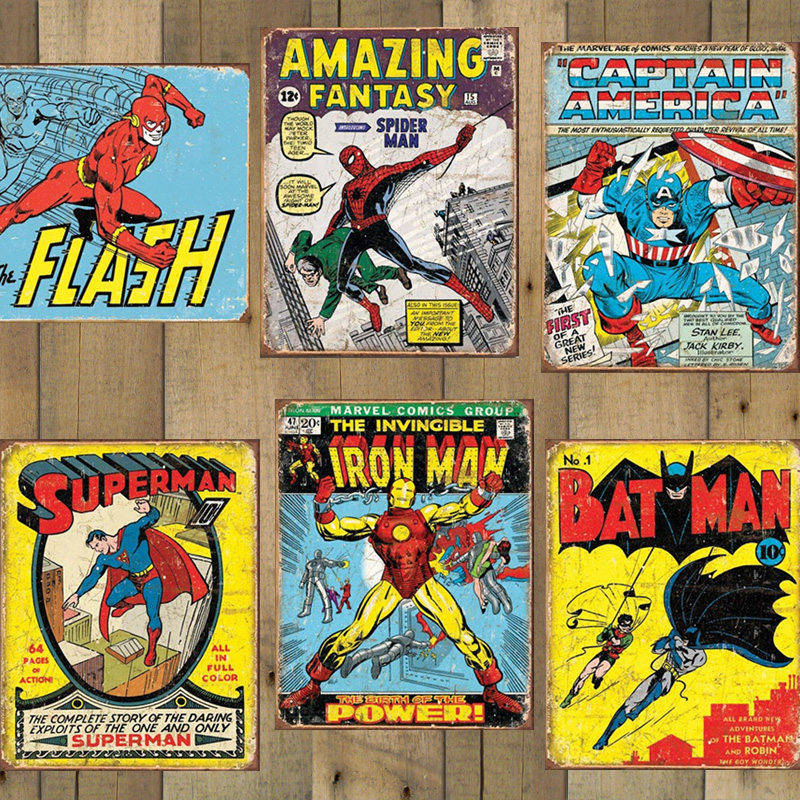 These Retro Comic Book Tin Signs are perfect for a comic book collector, superhero lover, or to add cool decor to your room. They feature characters from both MARVEL and DC Comics. It`s up to you to choose your favorite or favorites! These vintage looking metal signs are much larger and more impressive in person, made from heavy gauge tin, and feature colorful, fade-resistant retro graphics and pre-punched holes for easy hanging. Hang it on its own, or group it with your other favorite superhero tin signs for an impressive wall display.
Product Features:
Size: 16" High x 12.5" Wide
Officially Licensed
Made in the USA
Options available: Spiderman, Captain America, Batman, Iron Man, Superman, The Flash, Wonder Woman, The Incredible Hulk, Thor, Justice League of America, Silver Surfer, and Green Lantern
Choose your favorite or get them all!
More great deals:
âžœ
17oz Tritan Hydration Bottle by THERMOS - $4.99 - Ships Free
âžœ
Selfie-Stick With Remote Shutter Control - Works for iPhone AND Android Phones! No Batteries Needed! ONE for $6 or TWO for $10! SHIPS FREE!
âžœ
3 Pack Men`s or Women`s Name Brand Polarized Sunglasses - $15.99 SHIPS FREE
âžœ
2 Pack Telescoping 1 LED Flex-Head Flashlight Magnetic Pickup Tool - $4.49 Ships Free
âžœ
FREE Collapsible Trunk Organizer
âžœ
60 pk Crystal Light On-The-Go Packs -$4.99 with Free Shipping
âžœ
The Stars Need Darkness To Shine - POSTER OR Canvas - $9.99 - Ships Free
âžœ
FREE - Stuffingless Pet Toy with 2 Squeakers