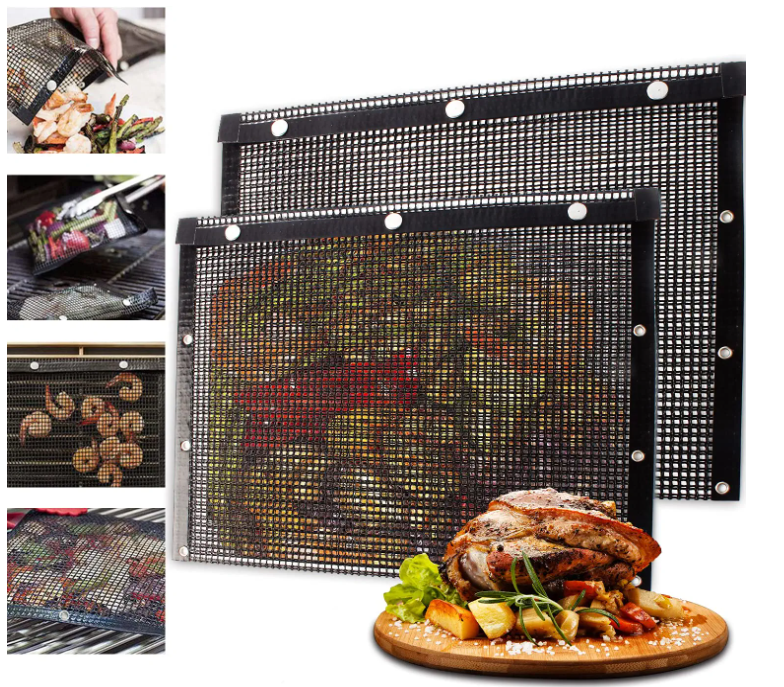 This is great for those who like to grill!
Fell Apart? NO! - Most people worry about the BBQ bags would fell apart when touched high temperature, this would not happened on Aoocan Mesh Grill Bags, 3 closure buttons add to each side to ensure longer using life.
EASY TO CLEAN & HIGH TEMPERATURE RESISANT - Our grill bags is very easy to clean. When you finish the barbecue, you just need to wash it with clean water and dry it in the sun. They can withstand temperatures up to 500 degrees Fahrenheit and will not burn. Keep your family safe with a brand you can trust.
SECURITY ASSURANCES - It has passed LFGB food-grade certification, which is harmless to food and makes your diet healthier.Thicker grill mats dose not mean better. We have tested it numerous times to get the best thickness we can get at the moment, and to ensure enough heat resistance so that the food you grill will still tastes better.
SUPER EASY TO USE - Not only do our barbecue bags evenly cook beef, poultry, seafood, and vegetables, they're SO easy to use! Just open the bag and you can you can season your food, ,easy-style! Flip and turn with a pair of grilling tongs to get those sought-after grill marks.
BEST OF ALL - Best value in bbq grill accessories! If you're not completely satisfied, we'll make it right or your money back. Why wait? Try yours RISK FREE! Warning: do not let grease accumulate due to risk of grease fire. If you have any question about it, just tell us and we will provide you a satisfied solution.
BONUS:
Check out these other
grill deals
currently available while you are here and save some money!
Did you find this post helpful? If so, it would be great if you could show some support by following

Closet of Free Samples on TikTok

(as well as my other social media accounts @closetsamples) and by checking out

my Etsy shop

! As a small creator, all your support makes a difference! Even a simple share of this post to your friends helps! Thanks so much!