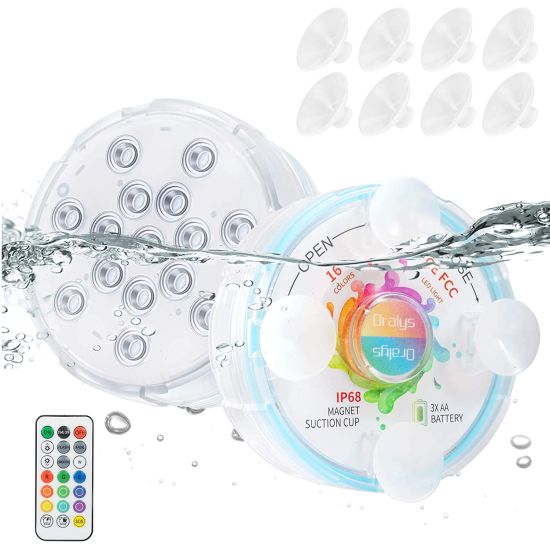 These would be so fun for your outdoor space!
If you are looking for a decoration light for your swimming pool, pond, vase, table settings, fish tanks ponds, hot tubs or holiday parties, Oralys LED underwater pool lights is a good choice, our lights is easy operate and widely used in swimming pool, hot tub, pond, aquarium, fish tank, vase, flower pot, fountain, bathroom, table settings. Light up your all kinds of parties.
Why Choose Our Submersible Pool Light?
- 80 Hours Working Time: using with 3 * alkaline AA batteries, the working time of the light will be 80 hours at most.(Oralys LED Pool Light use better LED chips which can help the light save more electricity than other brands)
- Strong Waterproof Ring & IP68 Waterproof Design: Made by high-quality waterproof material, thick waterproof ring inside to prevent water from seeping the light.
- Easy Installation and Easy operation: Four updated strong silicone suction cups can be installation easily, smart RF Remote can control the light reach 164ft in the air and 15.5ft in the water. No need to worry that changing the color of the light is troublesome.
- Outdoor and Indoor Ambient Decoration Light: The versatility makes it become a good ambient or decoration light in the air or the water. This light is the best choice for you to decor your swimming pool, pond, etc.
MAX 164FT RF Remote Range - Oralys shower led lights waterproof is equipped with a Smart RF Remote which makes the furthest distance that can control the light reach 164ft in the air and 15.5ft in the water. Please remote the light within 15.5ft because water can affect the signal propagation.