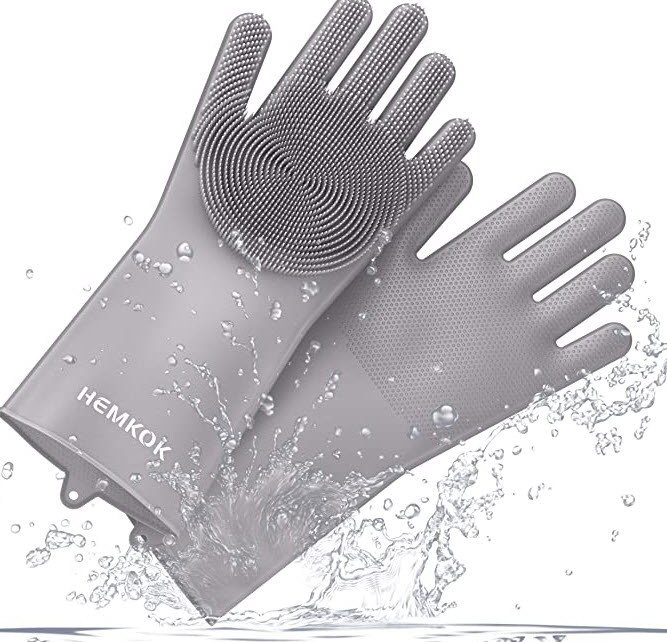 This is a great deal you do not want to miss out on to make cleaning your home easier!
WHILE THE BRISTLES ON OTHER SILICONE DISH GLOVES with scrubbers are often TOO SOFT and FLEXIBLE to do any real cleaning, Hemkok Dishwashing Gloves are designed to CLEAN EFFECTIVELY, with bristles that are soft and NON-SCRATCHY, YET STRONG enough to scrub surfaces THOROUGHLY. Reuse our multipurpose, environmentally friendly dishwashing glove over and over again to REDUCE YOUR CARBON FOOTPRINT!
YOU'LL OFTEN FIND HOLES AND TEARS in other DISH WASHING GLOVES for dishes after just a week or so of use, due to low-quality, WEAK SILICONE. Our silicon dish scrubber is made of THICKER, MORE DURABLE SILICONE to prevent tearing, so it's LONG-LASTING yet still flexible. REPLACE YOUR REGULAR SPONGES with our all-in-one dishwasher gloves, for a BUDGET-FRIENDLY brush glove that cleans more effectively, too!
YOUR MULTIPURPOSE CLEANING ALL-STAR! Our reusable gloves for cleaning the home and silicone scrubbing gloves for washing dishes are designed for a multitude of uses: HOUSECLEANING, scrubbing dishes and pans, PREPPING FRUITS and VEGGIES, TIRE and CAR CLEANING, and even GIVING FIDO A DOG BATH! These gray dish washing rubber gloves for dishwashing are also great for gently scrubbing spots and STAINS out of clothing, textiles, rugs, and carpeting.
QUICK-DRYING, EASY-TO-STORE DESIGN – Simply hang up your silicone glove pair by its handy HANGING EYELETS to dry quickly. Their thick, durable silicone helps RETAIN THEIR SHAPE over time. Keep this glove brush set on hand for all your kitchen cleaning needs!
AT HEMKOK, WE PRIDE OURSELVES IN CRAFTING PREMIUM- QUALITY, DURABLE dish cleaning supplies that get the job done right for a FRACTION OF THE PRICE. As clean freaks ourselves, we appreciate WELL- DESIGNED dish cleaner rubber cleaning gloves reusable rubber gloves, and create the rubber kitchen gloves medium we want for our own households.