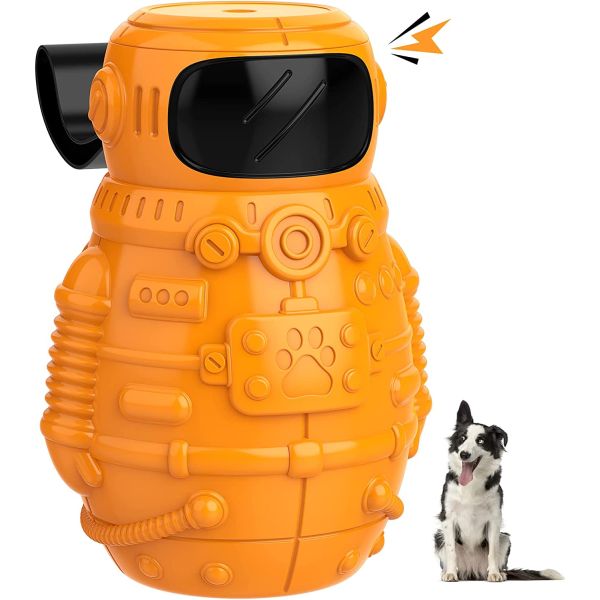 Calling all dog owners! Check out this toy!
Why choose this dog toy?: 4 in 1 multifunctional design is the biggest feature of this dog toy, can meet the multiple needs of dogs, safety and sturdy bite is basic, rubber is not stone so shredding is unavoidable, we do not hurt the premise of the dog's teeth, as far as possible to make the toy the toughest, so that the dog is not so fast to shred him, 1 week to shred the toy, you can contact us for a refund, hope that every dog can play happily!
Squeaky Dog Toy: Dog chew toys for aggressive chewers with a built-in squeal design that makes funny sounds when chewing. Squeaks attract the dog's attention and make chewing more exciting.stimulated the dog's hunting instinct, allowing the dog to release energy.
Teeth Cleaning Dog Toys: Help improve your dog's dental hygiene to keep them healthy and save money on your dog's dental bills. Put pet toothpaste on the toy to Chewing can help clean teeth(dental calculus) and control plaque and tartar,Comes with a brush for easy cleaning.
Interactive Dog Toy: Fill snacks in the toy to exercise the dog's brain, which will help meet the dog's instinct needs, train the pet's sense of smell, and let the dog enjoy fun feeding when using the nose or paw to move the slider, while providing spirit stimulate.
BONUS:
Check out these other
dog deals
currently available while you are here and save some money!
TONS of Limited-Time EXCLUSIVE deals have been posted to my Telegram channel! These deals include limited-time offers, coupon codes, and Amazon deals! It's FREE to join so you don't miss out! ? Sign up here!
═════════════════════════════════
PROMOTE YOUR BRAND WITH US!
═════════════════════════════════
Want to showcase your product to the Closet of Free Samples audience? Then check out my available advertising options and email me at This email address is being protected from spambots. You need JavaScript enabled to view it. to discuss!
═════════════════════════════════
FOLLOW CFS ON SOCIAL MEDIA
═════════════════════════════════