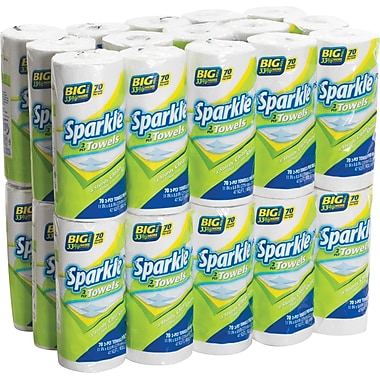 Staples has
Sparkle ps®, 2-Ply, Premium Paper Towels, 30 Rolls/Case, 70 Sheets/Roll
on sale for $20.99 down from $30.99 thru 1/14 with FREE Store pickup. This is as low as $0.70 per BIG roll which is a great deal! Features:
30 Rolls/Case
70 Sheets/Roll
2-Ply
Each roll measures 11.00? H x 4.80?W x 4.80?D
Sheet Size: 11.000? x 8.800" (W x L)
???? Get

Cash back

on this purchase by using TopCashBack! Sign up here for FREE!
*Tip: Open the TopCashBack link a new window, search for the store, select it and it will open in a new window. Once this happens, you can close that window and continue shopping from where you were. Doing this will log that you are shopping through TopCashBack without losing your place!
???? Want to Save More Money? Try these out: