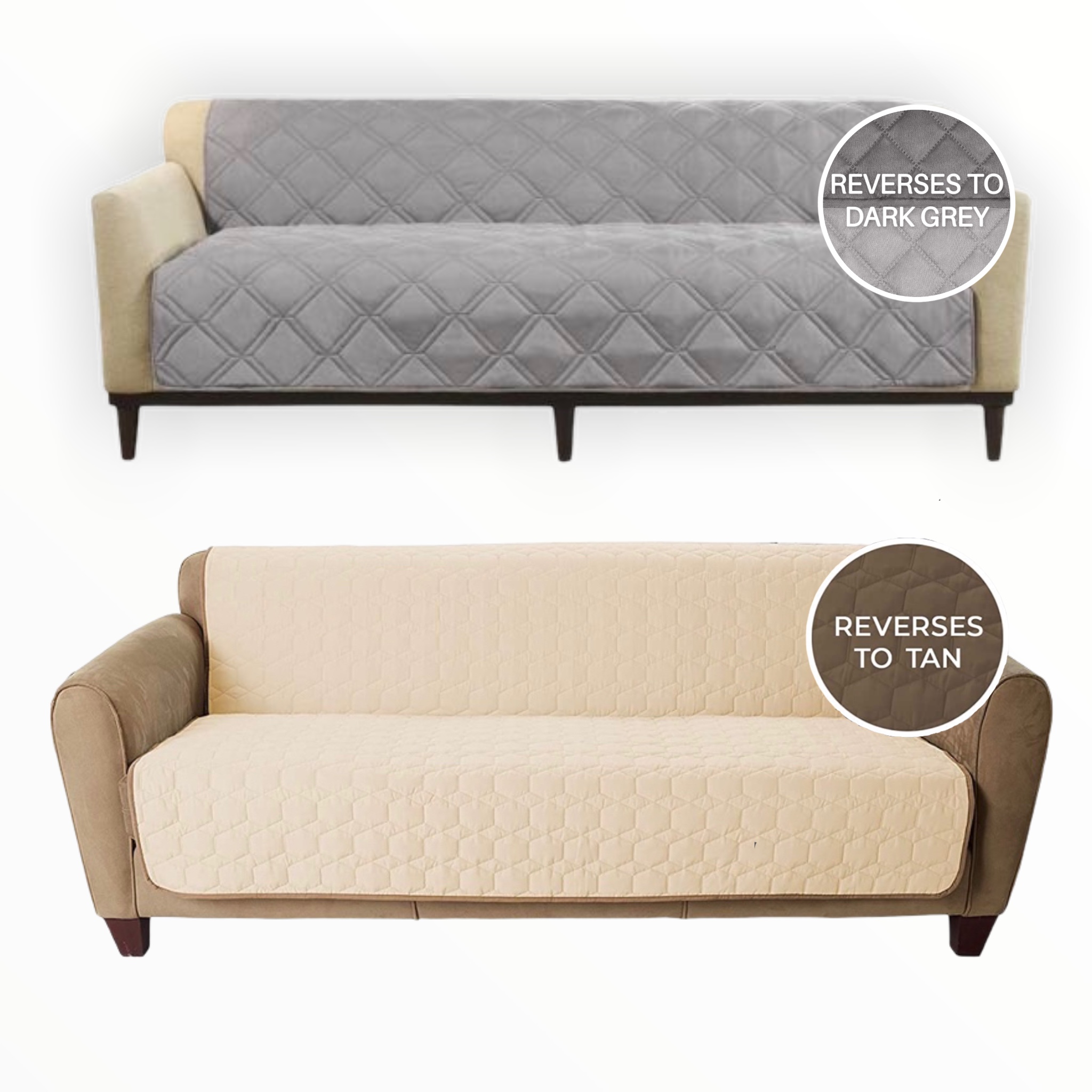 SureFit Reversible Couch / Bed Cover - Design makes this couch cover a perfect fit for all types of furniture including your sofa, futon or bed. - Super durable protecting from pets, kids and all kinds of stains! - Machine washable! - Available in 2 reversible colors: Light Gray / Dark Grey and Mocha / Cream - SHIPS IMMEDIATELY!
If you need a couch cover, check these out!
The Reversible 3-in-1 Armless Furniture Cover by SureFit is a quilted reversible microfiber multi-use throw, with a choice of two colors on opposite sides. Perfect for any living room, dorm room or apartment, the versatility of this cover allows you to put it on your couch, bed or futon. Made of the thickest quilting and soft-touch microfiber, the high-quality construction of this couch cover will help provide you with years of worry-free use. Washing is easy - just pop it in your machine and tumble dry on low! The SureFit Reversible Couch Cover best fits sofas with seat width 70 to 75 inches wide with a 39 to 50 inch backdrop.
100% Polyester
3-In-1 design - reversible Armless design makes this couch cover a perfect fit for all types of furniture including your sofa, futon or bed.
For all upholsteries - a perfect choice for protecting any sofa from pets or kids. Ideal for Armless or wood Arm Couches!
Machine washable - easily Care For your couch cover by machine washing in cold water and tumble drying on low heat.
Easy to install - fits Couches up to 75 inches wide.
Quilted microfiber - features a hexagon quilted Stich. Durable enough to protect from pets, kids and food stains.
Color: Light Gray / Dark Gray OR Mocha/Cream