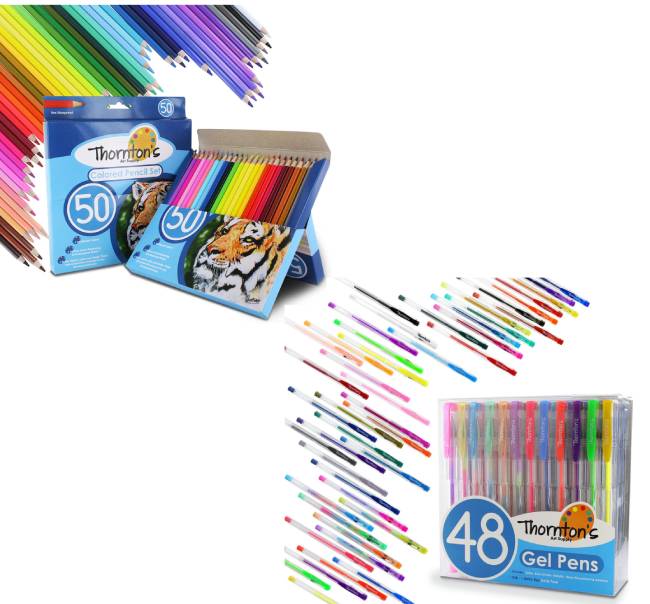 This is a great deal for your back-to-school shopping!
Set of 48 Stationary Colored Pen for Journaling Writing Artwork
COLORFUL FUN FOR ALL AGES: From kids to adults, novelty to professional, this set of unique and vibrant gels is the perfect gift idea for emerging artists as well as established ones.
EVERYDAY CREATIVE: Whether you're organizing or embellishing, our gel pen packs are great on paper, poster board, notebooks and many other surfaces where you can draw, sketch, journal, schedule, write, take notes, or relax with a coloring book!
CONVENIENT ARTIST PACKAGING: Outfitted with four trays for easy reach and use. Each gel pen can be stored in its own individual insert and comes with a color matched cap for long-lasting use.
CLEAN AND SAFE: Free-flowing ink provides smooth crisp application to write clean lines and designs. Acid-free, non-toxic, water-based ink with precise 0.8-1.0mm fine point tip is safe for child, school, classroom, office, and adult use.
ARTS ESSENTIALS: Sets include 48 standard and unique colors: black, blue, green, red, purple, pink, yellow, orange, white, gold, silver and more in a variety of styles like basic, pastel, glitter, metallic, neon, fluorescent, and rainbow swirl!
50 Piece Artist Grade Colored Pencil Adult Coloring Set
COLORFUL AND CONVENIENT: Pre-sharpened and ready to use these pencil sets come in a fold-over display box for making it easy to pick and choose colors. Great for beginner, professional, kids, adults, school classroom, home, studio, office, or gifts!
BOLD COLORS: Our colored pencils are produced with carefully selected high-quality pigments for all of your drawing, sketching, and creative coloring needs.
VERSATILE AND VIBRANT: Draw, sketch, color and shade. This pencil kit is great for any drawing technique on paper, art books, coloring books, bullet journals or other journaling, cards, crafts, posters, or any other magic you may want to create!
SUPERIOR CONSTRUCTION: Sturdy comfortable barrels and soft-core colored pencils lay down rich and smooth with no scratch, making them perfect for color mixing and blending. Pencil tip won't snap under normal pressure and moisture won't smear lines.
BRIGHT VARIETY: Packs come with 50 assorted colors, including: Ivory Yellow Lemon Orange Ochre Vermilion Red Crimson Rosy Pink Magenta Sienna Terra Cotta Peach Green Lime Emerald Royal Blue Indigo Purple Violet Grey Black White and many many more!