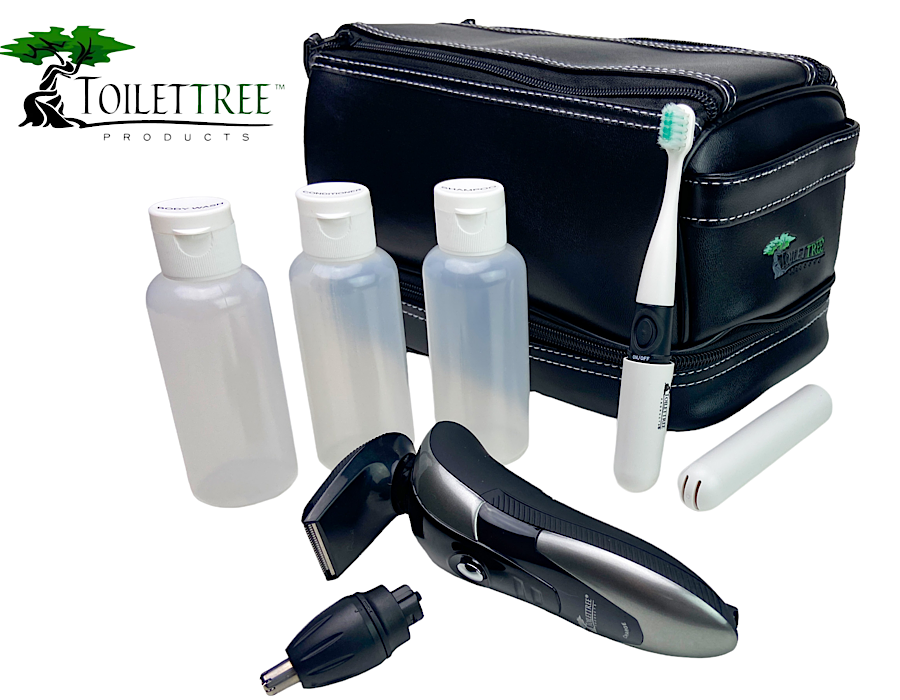 CLEARANCE (We just need the room!) - ToiletTree Grooming and Travel Set - YOU GET ALLLLLLL OF THIS FOR $15: Multi-Compartment (very nice) Toiletry Bag, 3 TSA Approved Bottles, Electric Sonic Travel Toothbrush AND Rechargeable Edge Trimmer with Nose Hair Trimmer Attachment - SHIPS FREE!
Grab one of these for your next travel adventure!
ToiletTree Products makes traveling easier then ever! This toiletry bag is designed to organize all of your toiletries in one place while traveling. This heavy duty bag has a large double zipper compartment for easy access. The bag also contains a separate compartment on the bottom of the bag for storing included accessories. Each toiletry bag comes with 3 TSA approved travel bottles - individually marked as Shampoo, Conditioner and Body Wash. We also include a travel sonic toothbrush as an added bonus. Bag can also be used as a makeup or medicine bag. The bag is designed with a fully water resistant, easy to clean nylon fabric interior. The exterior features reinforced double stitching with piping trim that is designed for easy cleanups.
Great for frequent business or pleasure travelers or occasional vacationers alike, our sleek, high-quality compact bag with attractive double-stitching trim comes with three TSA approved travel bottles and, as an added bonus, our Sonic Travel Toothbrush
This heavy-duty bag makes traveling easier than ever before; it has a large double-zipper compartment for easy access and has a separate area on the bottom of the bag for storing and carrying the included accessories
The included bonus travel pocket-size toothbrush with cover has 18,000 sonic brush strokes per minute to help keep your gums and teeth healthy and bright when you're away from home; you'll have a fresh mouth and happy smile along the way
This water-resistant portable toiletry case is designed to organize all your toiletries and the sonic toothbrush in one place so you can find them when you need them; it keeps everything neatly organized when traveling
We make packing easy with this travel case with easy-to-clean nylon interior; the 3 included containers are individually marked as Shampoo, Conditioner, and Body Wash; also use as a makeup or medicine bag
This is the Rolls Royce of nose hair trimmers. It doesn't get much better than this. When you pick this trimmer up in your hand, you will know that you just purchased a very high quality product that will last for a long time. Never worry about painful pulled hairs – its not going to happen with this trimmer. We manufacture using top of the line parts – motor, blades, batteries…. Because of this we are able to stand behind this product with a lifetime replacement warranty. If you ever have an issue, just contact us and we will either get your trimmer working again or replace it for you.
Rechargeable Nose and Sideburns Trimmer
Smooth Trimming – Top of the line blades will give you a perfect cut every time.
Rubber Grip – Ergonomic design with a soft touch for a secure grip.
Rechargeable Design – never worry about looking for new batteries. 8 hour charge will last you a month with normal use.
Travel Pouch – keep your charger and heads organized.
2 Different Heads – Nose trimmer and sideburns trimmer.
═════════════════════════════════
PROMOTE YOUR BRAND WITH US!
═════════════════════════════════
Want to showcase your product to the Closet of Free Samples audience? Then check out my available advertising options and email me at

This email address is being protected from spambots. You need JavaScript enabled to view it.

to discuss!
═════════════════════════════════
FOLLOW CFS ON SOCIAL MEDIA
═════════════════════════════════