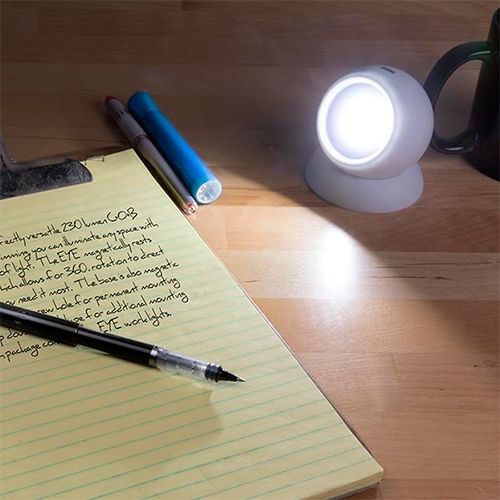 Take advantage of this deal before it's gone!
The NEBO Eye Light fits anywhere and provides light without any wires. You can mount the magnetic base on any flat surface, and you can lift the light from the base for portable use. BrightGuy is an authorized Nebo distributor.
What's included: Two NEBO Eye Lights, 2 magnetic bases, hook & loop tape and batteries
Features of the NEBO Eye Light, Directional Area Light, 6690
• shine light where you need it – closet, attic, cabinet, garage
• high-powered COB (chip on board) LEDs with 2 brightness levels
☼ High – 220 lumens, 3 hour runtime, 27 foot lighting range
☼ Low – 70 lumens, 9 hour runtime
• no electrical wiring required – unit is a fully self-contained battery operated light
• remove the light from the magnetic base for use as a flashlight
• powered by three AAA batteries (included)
▹ turn top section of light counter clockwise to replace batteries
• powerful detachable magnetic base
• light can be rotated on base 360 degrees
• water and impact-resistant
• pushbutton switch
▹ press for high
▹ press again for low
▹ press and hold for 3 seconds for SOS
• measures 3.1″ high x 3″ wide x 3″ deep
• weighs 5.28 ounces
TIP:
Check out these other
lights on sale
while you are here and save some money!