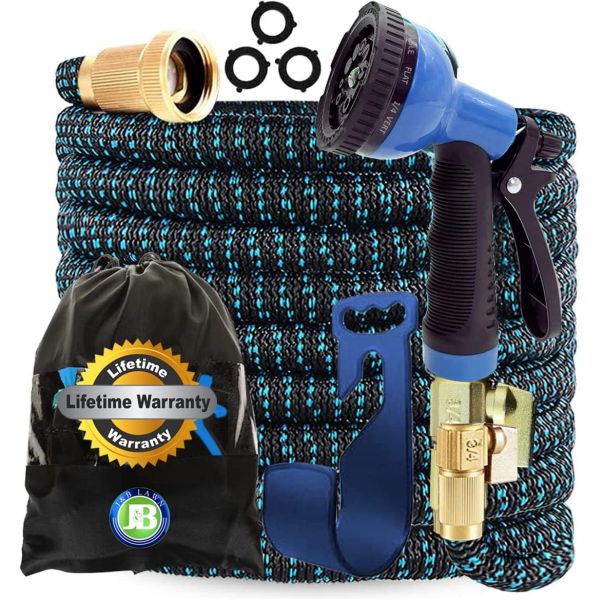 Don't miss out on this deal while it's available!
Water Your Garden Effortlessly And Forget About Struggling To Carry And Untangle Your Water Hose Once And For All Thanks To The Ultimate Expanding Water Hose! If you have been looking for the best, most practical and extremely durable collapsible garden hose, you have come to the right place! J&B presents you with the XpandaHose which is bound to serve all your needs! Last but not least, this retractable garden hose is very easy to store as it shrinks back to its original size once there is no more water flow. Durable Materials And A 10 Setting Nozzle. The latex core and the sturdy brass ends assure maximum longevity. Moreover, the 10 setting nozzle and the easy on/off switch will help you use this garden hose for many different purposes including watering, car washing, window cleaning, boat deck cleaning and more. Please keep in mind that you can easily use cold and warm water through your XpandaHose but please DO NOT use hot water as the XpandaHose and all other expandable hoses are made of a latex inner tube which will wear away at a faster pace.
no more leaks - Say goodbye to your frustrating, leaking hose! XpandaHose's solid 3/4 brass connectors and 4 layered latex core ensures leaks are no more. Complete with a sturdy on/off valve, the super strong XpandaHose can withstand 12 Bars of water pressure and temperatures up to 120 degrees F
strongest hose available – High pressured, triple layered latex core is the strongest most durable hose on the market making it stronger than any other expanding hose. Normal water pressure is 43.5-87PSI/3-6Bar where our new design is 174PSI/12 Bar!
much easier - Light Weight, Compact, Kink and Tangle Free! This amazing water hose starts out 16 Feet and expands to 50 Feet at full length with water pressure but returns after water is out! Our 50ft XpandaHose weighs less than 3.5lbs.
10 setting nozzle - Along with the 50 foot expanding water hose, you will receive a high quality spray nozzle with 10 adjustable patterns and ALL brass connectors, excellent corrosion resistance and durable quality!
Product Dimensions 100Foot 1200 x 12 x 12 inches
? If you like Amazon deals & coupon codes join my Telegram Channel (It's FREE!)! ? Sign up here!
═════════════════════════════════
PROMOTE YOUR BRAND WITH US!
═════════════════════════════════
Want to showcase your product to the Closet of Free Samples audience? Then check out my available advertising options and email me at This email address is being protected from spambots. You need JavaScript enabled to view it. to discuss!
═════════════════════════════════
FOLLOW CFS ON SOCIAL MEDIA
═════════════════════════════════