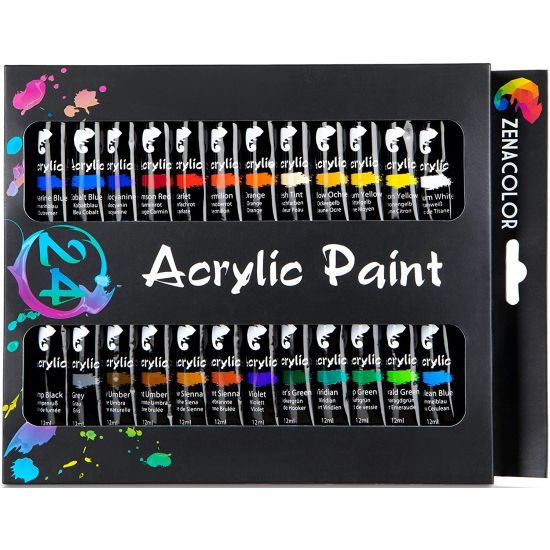 Need some paint? Grab this deal before it's gone!
HIGH QUALITY FOR INTENSE COLOR - Zenacolor acrylic paints have a high concentration of pigment, and their brilliant coloring will bring depth and intensity to your work while also heightening their resistance to light. They are kid-friendly, too - water-based, non-toxic, and clean up easily with soap and water!
VERSATILE ACRYLIC ART SET - Zenacolor acrylic paint sets are perfect for beginners and established artists. Whether you use them with acrylic paint brushes or as finger paint, they will give amazing results on canvas, fabric, rock, glass, clay, board, wood panels, ceramic, or any other acrylic paint medium!
WIDE VARIETY OF PAINT COLORS + EASY TO MIX = INFINITE POSSIBILITIES - The 24 acrylic paints in this bulk set cover a wide spectrum of colors. Because we know your creative spirit has no limits, Zenacolor acrylics mix very easily, with your finger, a knife set, or brush, bringing you an infinite range of colors.
LET YOUR IMAGINATION RUN FREE - Our kit of 24 acrylic paint tubes and art supplies are ideal for the artist in you. While painting, you can quickly find the color you need and create the paint effect you want.