Life hacking allows people to take more ownership of their lives. Before attempting to hack life, people shouldn't just set an end goal but should also ask themselves how they want to feel on a daily basis. If people aren't happy with what they are doing daily they won't succeed. Maybe all this life hackery is just another way the internet tries to hold your attention. Some life hacks might really be game-changers. Either way, it doesn't hurt to try, right?!
Definition of life hack
informal. : a usually simple and clever tip or technique for accomplishing some familiar task more easily and efficiently. "Life hacks," as they are known, are all about eliminating life's manifold frustrations in simple and deliciously clever ways.
Why are life hacks so popular?
Life Hacks are the best things that can happen to a person. Why wouldn't you like to do the same thing in a short and simple way? Like Bill Gates always said He would like to hire a lazy person rather than hard-working person because he will find an easy way to do the same. Life Hacks merely make the work easy with the same results. They are popular because they can improve the rest of your life.
Follow me to save more money!
Don't forget to
follow me on Twitter for daily deals
and freebies. I am very limited on my posting on Facebook due to all their
"violations"
and such. I don't even like to post kitchen knives on there anymore! Whereas
everything
has been getting shared on Twitter. Of course, you are always welcome to still
follow me on Facebook
as well! So don't miss out on all the money-saving offers!
TODAY'S LIFE HACK
If a telemarketer puts you on hold and you don't hear music, there's a good chance you're just muted and they can still hear you.
Speaking of phone calls, check these out:
Convenient Lifestyle - Quick access to your main ID and credit/debit card while on the go. Simply grab your cell phone and attach the Ring Slot Card Holder on the back. Slide cards into the Ringke Ring Slot Card Holder, then you are all set and ready to go!
Comfort & Secure Design - Newly added Ring feature ensures grip while the PC card clip holds your stored ID/card secure. The 4-Corner Locking Gear is designed to hold max 2 cards securely, even when the Ring Slot Card Holder is held upside down.
Use as Phone Stand - The ring is designed for sturdiness! Along helping with the grip of your phone, also use it as a kickstand to keep your phone upright while watching videos. Keep it at a comfortable angle without your hands.
Safe & Strong Attachment - Tough 3M Adhesive offers easy installation and can be removed without a mark while securely adhering for high quality, long lasting application. (*Extra 3M Adhesive Tapes Included)
Universal Adhesive Card Wallet - Fully compatible with most flat panel back case or smartphone to increase convenience and support for instant safe access to your ID or card necessity. (*Phone case is not included with this item. To make sure your device is compatible with the item, please check detailed image for the dimensions.)
PLEASE BE ADVISED: Devices with glass backs such as iPhone XS / iPhone X / iPhone XS Max / iPhone 8 / iPhone 8 Plus / iPhone 7 (Matte/Jet Black) / iPhone 7 Plus (Matte/Jet Black) are recommended to use with a phone case to avoid adhesion issues and damage to your phone.
Stay connected while you are on the move! Style meets functionality with our corded smartphone cases and custom phone accessories. Customise your phone with our changeable phone leashes and free your hands during your daily activities. Check our phone cases with cord packages for a full range of cases and cords for ultimate protection and maximum style!
A banana-shaped, Bluetooth®-enabled, mobile handset and speaker that connects to your smartphone: interact with your voice assistant (Siri & Google Assistant) and talk to your friends on a banana! Play your favorite tunes from your favorite fruit! We're taking a bite out of the Apple (and Android) accessory market one Banana at a time.
TODAY'S GREEN HACK
Need to shine your shoes? Stop using those toxic shoe shining products and start using a banana peel. It's natural, has no harmful chemicals, and poses no risk of staining the carpet.
Speaking of shoe cleaning, have you tried these?
Shoe Dryer, Boot Dryer, Smart Shoe Cleaner with USB Charging, Wireless Footwear Dryer, Household Essential for Shoes, Footwear Cleaner with Sterilization, Deodorization, Drying 3 modes.
White shoes cleaning pen is a good helper for cleaning your shoes, making your shoes looking like new again. Don't worry about the shoes turn yellow, the edges of the shoes turn black, or get dirty after wearing for a long time. You can wear shoes immediately after painting without waiting for drying, saving time, convenient to use. Mild formula, no damage to shoes, long time protection. Portable and lightweight, easy to carry. Sneaker marker with 6mm/10mm tip for option. A good gift for your friends and family.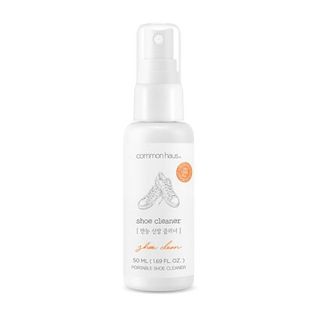 Effectively kills bacteria and removes unpleasant smell with a soft rose cotton fragrance.
Contains Silicone Emulsion to remove dirts from shoes without causing damage to the material.
Free of harmful substances and formulated with naturally derived ingredients making it safe to use.
Suitable for any washable materials.