Definition of life hack
informal. : a usually simple and clever tip or technique for accomplishing some familiar task more easily and efficiently. "Life hacks," as they are known, are all about eliminating life's manifold frustrations in simple and deliciously clever ways.
Don't forget to
follow me on Twitter for daily deals
and freebies. I am very limited on my posting on Facebook due to all their
"violations"
and such. I don't even like to post kitchen knives on there anymore! Whereas
everything
has been getting shared on Twitter. Of course, you are always welcome to still
follow me on Facebook
as well! So don't miss out on all the money-saving offers!
TODAY'S LIFE HACK
Tired of messy cake cutting? Run your knife under hot water, dry it off, and then cut your cake. Works like a charm. You may need to reheat it a few times if you're cutting a whole cake.
Speaking of cakes, have you tried these?!
Chocolate lava cakes are a popular, elegant cousin to a brownie. Though they look like they could be complicated, they are not. With this mix, they are easy. If you can make cupcakes, you can make these lava cakes. It doesn't take special equipment; you can make them in your jumbo muffin pans.
Celebrate with our Birthday Cake Blondie Mix! Uniquely crafted with no artificial ingredients and real natural color sprinkles, enjoy our fun, festive mix year-round.
Is it cake? Cookie? Sandwich? Moonpie? NO, Its a Whoopie Pie! We bring you New Hampshire's Whoopie Pie, the perfect combination of not too sweet, not too messy, dense chocolate cake-cookie like deliciousness, with the perfect not too greasy, fluffy filling. Our Whoopie Pies are baked from scratch weekly and ship out every Wednesday. Pick up to 4 wild and crazy flavors per box, or play it safe with an all original classic. All Whoopies (except pumpkin spice) are chocolate cake with optional fillings below. Whoopies are 6.5 oz each, measuring around 4" across.
TODAY'S GREEN HACK
Do you own stainless steel appliances? Safely clean them without damaging the finish and without using harmful chemicals by creating a simple cleaning solution with cream of tartar and white vinegar.
Speaking of cleaning stainless steel... here are some other options to just clean!
Scrubs Stainless Steel Cleaner Towels clean, polish, brighten and protect - all in one step. This powerful formula prevents water marks and corrosion and preserves the high luster of stainless steel. They are ideal for bathrooms, drinking fountains, elevators, kitchens and more. Surface can be polished with clean, dry cloth for higher gloss. Use the NSF-registered towels to remove spot marks, film, fingerprints, watermarks and grease on stainless steel, aluminum, chrome, copper and brass. Each tub contains 30 towels.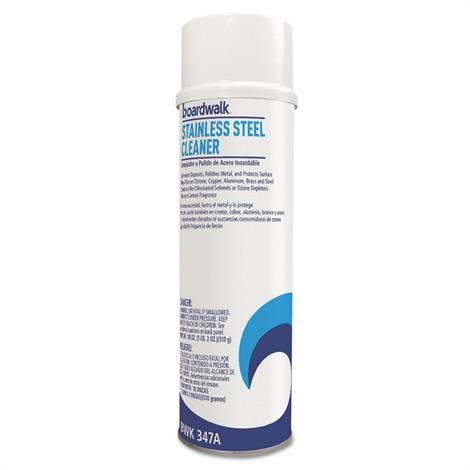 Boardwalk Stainless Steel Cleaner & Polish - Cleans and polishes stainless steel, chrome, copper, aluminum, brass and other metal surfaces. Water-in-oil emulsion formula means the product acts like a solvent (oil based) without the oiliness or flammability. Pleasantly fragranced polish cuts through oil and grease while leaving a protective shine. Contains no chlorinated solvents or ozone depleters.
With the accessory basket, this ultrasonic cleaner can effectively help you remove dirt from your glasses, jewelry, watches to make them look new. Perfect for cleaning small-size household stuff, instruments and mechanical components without damage to delicate parts.