Life hacking allows people to take more ownership of their lives. Before attempting to hack life, people shouldn't just set an end goal but should also ask themselves how they want to feel on a daily basis. If people aren't happy with what they are doing daily they won't succeed. Maybe all this life hackery is just another way the internet tries to hold your attention. Some life hacks might really be game-changers. Either way, it doesn't hurt to try, right?!
Definition of life hack
informal. : a usually simple and clever tip or technique for accomplishing some familiar task more easily and efficiently. "Life hacks," as they are known, are all about eliminating life's manifold frustrations in simple and deliciously clever ways.
Why are life hacks so popular?
Life Hacks are the best things that can happen to a person. Why wouldn't you like to do the same thing in a short and simple way? Like Bill Gates always said He would like to hire a lazy person rather than hard-working person because he will find an easy way to do the same. Life Hacks merely make the work easy with the same results. They are popular because they can improve the rest of your life.
Follow me to save more money!
Don't forget to
follow me on Twitter for daily deals
and freebies. I am very limited on my posting on Facebook due to all their
"violations"
and such. I don't even like to post kitchen knives on there anymore! Whereas
everything
has been getting shared on Twitter. Of course, you are always welcome to still
follow me on Facebook
as well! So don't miss out on all the money-saving offers!
TODAY'S LIFE HACK
The next time you get an anxiety/panic attack, try pinning your shoulders back. When you get these attacks, your body's natural reaction is to curl up into the fetal position. Keeping your arms down and shoulders back is a great way to fight against the panic attack and stay "in reality."
Speaking of anxiety give these a try:
PYM Mood Chews are made with amino acids and adaptogens that target the body's hormone levels to manage stress*. PYM can be taken as often as you need it. We recommend taking it at the start of each day as soon as you feel a sense of overwhelm or approximately 20 minutes prior to experiencing a stressful situation.
We developed an anxiety ring and fidget tool to help ease your anxiety by giving you something to fidget with. The ring distracts you from constant worries by keeping you grounded and providing a distraction from negative thoughts. Meditation rings can have calming effects for stress and anxiety relief while serving as an aesthetic piece of jewelry that won't tarnish, rust, or corrode. According to Niru Ahmed, PhD and behavioral psychologist, "an anxiety ring can be useful in providing a tool for that repetitive action and provide a distraction for the hands."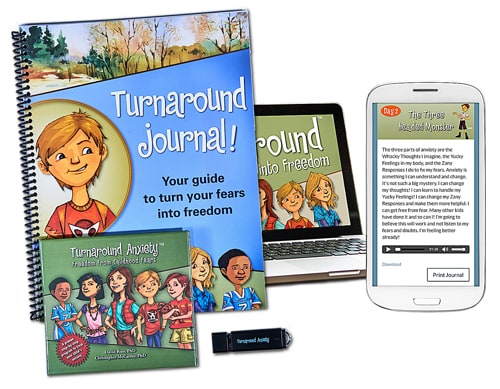 Our line of award winning child anxiety treatment products have helped thousands of kids overcome their anxiety and fears. If your child is suffering from panic attacks or separation anxiety, displaying signs of obsessive-compulsive disorder, constantly worrying, experiencing intense stress or struggling with school and social situations, Turnaround Anxiety could be the solution you're looking for. Featuring a child-friendly audio adventure story, interactive workbook activities and complementary materials to guide therapists, our innovative childhood anxiety treatment program can help to ease your child's anxiety and nervous behavior. From our Digital Turnaround Anxiety program to supplemental and support materials for professionals, you can find all the Turnaround Anxiety products you need right here!
TODAY'S GREEN HACK
Did you know your fridge has different zones? There's a cold zone at the back, a moderate zone in the front, and a humid zone in the crisper drawers. Make sure you're storing the proper foods - like milk - in the cold zone, and your vegetables in the crisper drawer.
Speaking of refrigerators, take a look at these:
Store your food in style with this beautiful refrigerator that has a capacity of up to 16.2 Cu., it can store up to 26 shopping bags of food. It comes with No Frost technology that prevents ice buildup when cold air is circulating evenly. Also, you can keep meat, fish and cheese longer with a constant temperature.
5.3 cubic feet of storage space can holds up to 142 standard 12 oz. cans; Adjustable temperature range: 32-50 degrees F with the digital LED display and sensitive touch on the refrigerator; The refrigerator drawer equipped with double drawer, which has a main drawer section and a sliding drawer to separate foods; 304 Stainless Steel construction offers maximum durability, If there are any smears fingerprints or water marks near the ice maker you just need to wipe clean with a damp microfiber cloth; Suitable outdoor use for all seasons with ETL, cETL certifications.
The BougeRV 58.7L Mini Car Refrigerator is a great food storage options for your RV, both for trips or full time off-grid. The large capacity allows you to store large quantities of your favorite beverages and frozen snacks. The small unit makes you really feel in vacation.