Life hacking allows people to take more ownership of their lives. Before attempting to hack life, people shouldn't just set an end goal but should also ask themselves how they want to feel on a daily basis. If people aren't happy with what they are doing daily they won't succeed. Maybe all this life hackery is just another way the internet tries to hold your attention. Some life hacks might really be game-changers. Either way, it doesn't hurt to try, right?!
Definition of life hack
informal. : a usually simple and clever tip or technique for accomplishing some familiar task more easily and efficiently. "Life hacks," as they are known, are all about eliminating life's manifold frustrations in simple and deliciously clever ways.
Why are life hacks so popular?
Life Hacks are the best things that can happen to a person. Why wouldn't you like to do the same thing in a short and simple way? Like Bill Gates always said He would like to hire a lazy person rather than hard-working person because he will find an easy way to do the same. Life Hacks merely make the work easy with the same results. They are popular because they can improve the rest of your life.
Follow me to save more money!
Don't forget to
follow me on Twitter for daily deals
and freebies. I am very limited on my posting on Facebook due to all their
"violations"
and such. I don't even like to post kitchen knives on there anymore! Whereas
everything
has been getting shared on Twitter. Of course, you are always welcome to still
follow me on Facebook
as well! So don't miss out on all the money-saving offers!
TODAY'S LIFE HACK
Don't leave empty boxes from the expensive electronics that you got for Christmas (or any other occasion) on the curb after opening, as it's an invitation for theft.
Speaking of safety and security, consider trying these: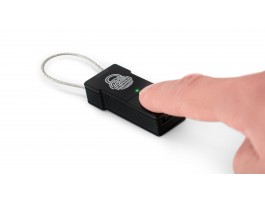 In a world that is in constant need of privacy and security protection, the Thumbprint Lock fits perfectly with today's demands for security. The Thumbprint Lock uses a strong braided steel locking cable with a smooth vinyl coating to ensure your items are secure and safe. It offers up to 10 different fingerprints to be stored for authorized use. Whether you are in need of a lock for your luggage, toolbox, gun case, or backpack, the Thumbprint Lock will prove its versatility in every instance. The Thumbprint Lock is easy to program and since it is Biometric, it cannot be picked. The Thumbprint Lock can be quickly locked and unlocked with just one finger. The Thumbprint Lock is the future of Biometric locks. With it, there is no need to worry about losing your keys or remembering a combination. The Thumbprint Lock is tomorrow's security measure for today's security needs. The Thumbprint Lock provides affordability, security, and durability, all in a compact, easy-to-use the device. In summary, the Thumbprint Lock will replace your current padlock and add the safety and security of Biometric technology. This will eliminate the need for cumbersome keys that are easy to lose or duplicate by would-be thieves. It also removes the need to remember easy to forget combinations that others could easily guess. All of these features are afforded to you without the need to sacrifice the security you require.
This alarm system contains a WIFI+GSM alarm panel, a PIR sensor, a door sensor, a wired siren, two RFID cards and two remote controllers. It supports for Amazon Alexa/Google Home Voice Control and phone APP remote control. You can arm/disarm this alarm system via host, phone or remote controller. Advanced home automation functions for perfect smart home life. When the thief came in, the alarm will send out 110Db warnings to scare away the thief, or it will make auto-dial or send a message to remind you, so that it can help you reduce property loss and guarantee your home security.
The JOLT RhineStun Gun Rechargeable Flashlight Black 75M features a powerful stun gun and a versatile tactical flashlight built into a small yet fashionable frame that is only around 7.75 inches long. Aiming the flashlight at the eyes of an attacker can temporarily blind them, allowing you to then use the stun gun to deliver an incapacitating shock. Made from military grade aluminum alloy and featuring a trendy rhinestone design, this self defense weapon is highly durable and provides a firm grip, thanks to the previously mentioned rhinestone textured handle. Additionally, this tactical stun gun flashlight contains a rechargeable battery and a recharging cord that can be plugged into any standard wall outlet for easy charing. It also includes a wrist strap and nylon holster that makes the device easy to carry and it comes an instruction manual and a limited lifetime warranty as well.
TODAY'S GREEN HACK
Did you know that your house's old shingles can be used for paving streets and highways? On shinglerecycling.org you can find a local shingle recycler to donate to.
Speaking of recycling, check out these recycled products:
Simple and beautiful our sterling silver At The Cross Ring features an adjustable bypass design with a stunning petite cross. A 6mm glass gem handmade from the broken antique glass and bottles shines and reflects the silver.
Handmade and mouth-blown by Spanish artisans from 100% recycled glass. The wide mouth and rounded base of this stemless wine glass are a stylista's dream. Clean lines and a seafoam tint make this a special vessel for your favorite vino and more.
Designed for life on the go, the Showstopper Bra doubles as a bra for low impact activities or a night out dancing. Sculpting fabric made from recycled water bottles, features a curved sweetheart neckline to flatter your décolletage.