Definition of life hack
informal. : a usually simple and clever tip or technique for accomplishing some familiar task more easily and efficiently. "Life hacks," as they are known, are all about eliminating life's manifold frustrations in simple and deliciously clever ways.
Don't forget to
follow me on Twitter for daily deals
and freebies. I am very limited on my posting on Facebook due to all their
"violations"
and such. I don't even like to post kitchen knives on there anymore! Whereas
everything
has been getting shared on Twitter. Of course, you are always welcome to still
follow me on Facebook
as well! So don't miss out on all the money-saving offers!
TODAY'S LIFE HACK
Kids complaining about getting the end piece of a bread loaf? Flip it over and put the end side down on a sandwich. They'll never know the difference!
Speaking of bread, check out these awesome bread finds!
The Omega Bun is a one-of-a-kind sandwich bun! This revolutionary sandwich bun is made from all-natural, organic ingredients and has: NO grains, NO dairy, NO sugar, NO starch, NO nuts, NO gluten, ONE net carb! The regular Value Pack includes four packs of four buns (sixteen buns total) and the Large Value Pack includes six packs of four buns (twenty-four buns total).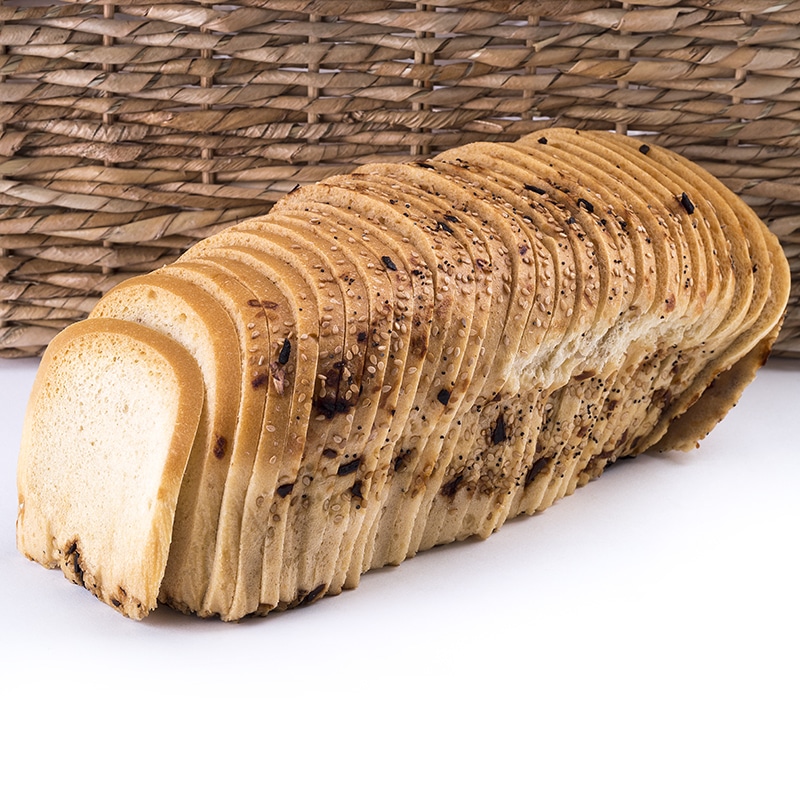 1 net carb and 60 calories per 2 slices. This toasts well or eat it right out of the bag.
Crafted from Emile Henry's innovative refractory ceramic, the Emile Henry Bread Loaf pan assures an evenly baked crust on your bread and a beautiful presentation. Also perfect for granola bars, meatloaf, pot pie and no crust quiche. Our Bread loaf baker allows you to bake all kinds of home-made bread (for sandwiches, gluten-free, rye bread…), with a crispy crust and soft inside. The refractory ceramic and domed lid create the right level of humidity during cooking to get a perfect loaf. The holes in the base and lid help the dough to rise and create a dry, crispy crust. The ridges on the bottom prevent the dough from sticking. The handles on the lid make it easy to manipulate. All Emile Henry products are made in France and offer a ten years guarantee.
A great bread knife is an essential to any kitchen, not only for slicing through soft yeast breads and crusty artisan loaves, but they're also the blade of choice for delicate cakes, pastries, and biscotti. Whether, slicing tomatoes and soft fruits, trimming a pineapple or melons, cutting cheese, slicing salami, shredding lettuce and cabbage, and carving up roast meats and poultry, a great bread knife is an indispensable tool for any cook.
TODAY'S GREEN HACK
If you're looking to lower your carbon footprint with your diet, stop eating beef. Beef has the highest carbon footprint of any meat (by a substantial amount, too).
Speaking of lowering your meat intake, check out these vegetarian-friendly finds!
Although the original Huế chili sauce is known for its distinctive anchovy base, our vegan friendly version still holds all the same flavor notes and aroma
To be inclusive of our wide range of customer base we are proud to create a vegan version
A vegan version of our original chili sauce without sacrificing flavor
Made with vegan ingredients
Available in 8 oz. and 16 oz.
Add an Extra Jar and Save!
Free Shipping
FAST AND FLAVORFUL - Want that great taste of authentic Pho immediately available any time of the day? Try our Instant Vegetarian Pho Noodle Bowl! Our broth has the depth of flavors mimicking homemade pho in minutes!
PREMIUM RICE NOODLES - Our rice noodles are perfectly formulated to absorb the flavors from the soup broth leaving a soft and chewy texture. No soggy noodles here!
QUICK AND EASY - Our Pho noodles are prepared in only 3 minutes! All you need to add is hot water!
HEALTHIER - Gluten-Free, Non-GMO, No Cholesterol, No TransFat. You don't need to feel guilty consuming our instant noodles!
COMPLEX or SIMPLE - Enhance this bowl of instant Pho with your favorite proteins and aromatic herbs or enjoy as is! Either way-- it's delicious
6 BOWLS PER BOX - Each box contains 6 bowls of our delicious noodles!
Perfect for a guilt-free lunch or a no-prep dinner, these hearty meals will keep you healthy, focused, and energized. Hand-cooked and veggie-powered, they're delicious, guilt-free, and ready in under 5 minutes.
Add fresh veggies to make a plant-based, protein-rich ground meat alternative. 🥦🍔 Soy-free, gluten-free and vegan!