Do you like reading fun facts?! Well, you're in luck because here we have decided to start posting them daily!
A wise man once said, "Learn something new every day." We might not know a lot about the world yet compared to how much is out there, but we always discover new things about it. What's useless info to some is, to others, cool, amazing fun facts that make the world a stimulating and awe-inspiring place. Are you one of those people who love collecting unexpected pieces of knowledge? If so, prepare to have your mind blown with these interesting fun facts that will amaze adults and kids alike.
Definition of fact:
noun
. something that actually exists; reality; truth:
Your fears have no basis in fact. something known to exist or to have happened: Space travel is now a fact. a truth known by actual experience or observation; something known to be true: Scientists gather facts about plant growth. Enjoy reading interesting facts?
You can see previously posted daily fun facts here
.
Follow me to save more money!
Don't forget to
follow me on Twitter
for daily deals and freebies. I am very limited on my posting on Facebook due to all their "violations" and such. I don't even like to post kitchen knives on there anymore! Whereas everything has been getting shared on Twitter. Of course, you are always welcome to still follow me on Facebook as well! So don't miss out on all the money-saving offers!
Plus, I share extremely limited-time offers on
my Telegrams channel
, so be sure to follow me there as it is free!
TODAY'S DID YOU KNOW...?
Oysters make pearls so they can feel better. When a grain of sand or debris gets stuck in their bodies, they ease the pain and irritation by coating it with multiple layers of nacre, the mineral that lines the inside of their shells, and a peal begins to form. Basically, pearls are like blisters, only much prettier.
Speaking of pearls, check these products out:
When you see the lustrous pearl choker necklace paired with a shimmering gemstone pendant, you can't help but wonder how perfectly they match. Unlike ordinary pearl necklaces, this pearl necklace choker has a detachable pendant. There are 4 colors of gemstone pendants to choose from: green gemstone pendant, purple gemstone pendant, blue gemstone pendant and mother of pearl love pendant. The multi strand pearl necklace is 36cm(14.2 inches) and comes with a 6cm(2.4 inches) extender. In the length of 36cm+6cm (14.2-16.5 inches), this women's choker necklace will fit snugly around your neck, making your neck look sexy and attractive. Even with shirts, the pearl choker necklace is still in a conspicuous position and will not be blocked.
Bored with usual gold or diamond rings to adorn your fingers, try out the new style by wearing a presentable Australian White South Sea pearl finger rings from Pacific Pearls International! Pearls are considered as a luxury gem for Millennials. The natural elegance, high lustre, luxurious glow and the uniqueness of the pearl made it popular than other precious metals like gold and diamond. The pearl jewelry has become a metaphor for something rare, unique, natural, admirable and valuable in today's world. Pearls differ in sizes and shapes, but the white and round shaped pearls are the most popular one! Incorporated in any jewelry, these genuine pearls bring a dashing impression and you will feel Royal on all special occasions! Because they are an unusually large and quite rare item, the South Sea pearls are used by many Hollywood Royalties like Audrey Hepburn, Jackie Kennedy, Diana and Princess of Wales as a part of their signature style! Our beautiful finger rings will reach your doorstep no matter where you are in the world at free of cost. Whether it is an office party or a family function, our pearl finger rings are the best choice as they fit with all outfits. At Pacific Pearl International, we strive to provide you with the largest collection of curated designs that is suitable for every occasion. Australian South Sea pearls are produced by Saltwater Oysters and the gems that come from them are of different shapes and sizes. Being larger than other types of pearls, unique lustre quality and with a luminous glow, South Sea pearls are often used for creating high-end pearl jewelry! Our delightfully charming fashion ring is crafted in 18k stamped white gold metal and boasts one perfect round shaped 11.8-12mm Australian White South Sea in the centre gives a sophisticated look on all special occasions. Two dazzling diamonds, at approximately 0.12-carat total weight, adds a hint of sparkle to this elegant ring.Show your love to that special one by presenting them with our beautiful ring that will be the perfect addition to their collection. Our natural white pearl rings are absolutely a perfect gift for friends and family members on Thanksgiving Day, Christmas, and Graduation, Birthday, New Year or any special occasions! By offering 70% on original retail prices, this will be the perfect time for the perfect purchase! Add fruit of joy for the upcoming festivals or any occasions like Anniversary, Engagement, Birthdays, Christmas, Easter and more by presenting our lustrous ring to your special persons like Mom, Life Partner, Fiancée, Sister, Grand Mother or even a wonderful gift for yourself!
Green cultured freshwater Pearl, baroque rice shape, high luster, Crystal is navy blue in color, great luster
TODAY'S AMAZING FACT:
If you love to preach Bob Ross's happy little trees gospel and live and breathe The Joy of Painting, which premiered on PBS forty years ago today, then perhaps becoming a Certified Ross Instructor is in your future. According to the official website, "No previous painting or teaching experience is needed."
Speaking of Bob Ross, check these products out:
Introduce kids to the joy of painting with Bob Ross for Kids Happy Lessons in a Box. Featuring all the tools they need to create five paintings from set-up to signing, this fun kit gives kids simple yet real painting skills they'll use for life. Each kit includes six waterbased colors and a basecoat just like Bob's, plus brushes, canvases, a kid-sized palette, a 36-page comic book with step-by-step instructions to complete five paintings, and access to an exclusive video tutorial with a master Bob Ross instructor.
Bob Ross and Friends Deluxe Party Packs for clever party planners include most of our Bob Ross party decorations.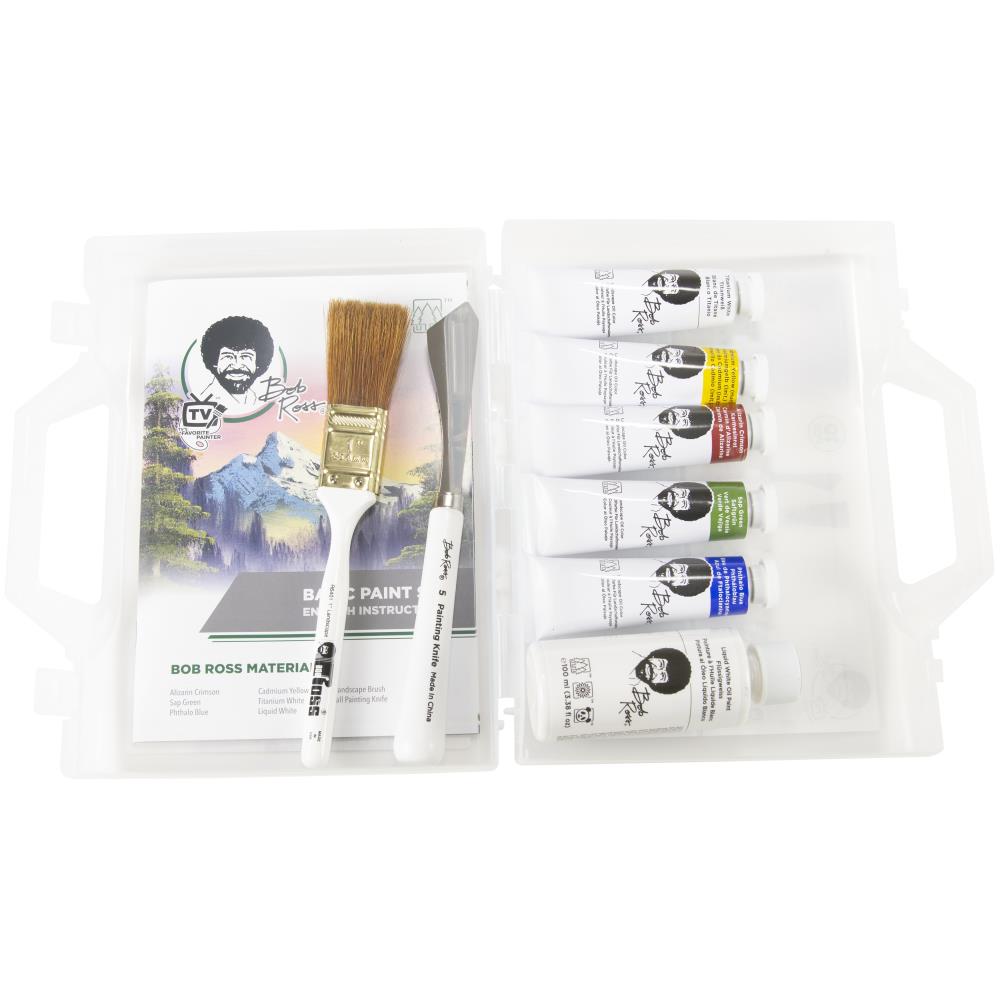 These supplies will bring out the inner artist in everyone. This 8x9 inch package contains (5) 37ml Bob Ross Oil Colors, (1) 100ml Bob Ross Liquid white, Bob Ross No.5 Painting Knife, Bob Ross one inch Landscape Brush, Instructional Leaflet and a Plastic Carrying Case. Requires use of standard DVD player to use DVD. Conforms to ASTM D4236. Imported.