Do you like reading fun facts?! Well, you're in luck because here we have decided to start posting them daily!
A wise man once said, "Learn something new every day." We might not know a lot about the world yet compared to how much is out there, but we always discover new things about it. What's useless info to some is, to others, cool, amazing fun facts that make the world a stimulating and awe-inspiring place. Are you one of those people who love collecting unexpected pieces of knowledge? If so, prepare to have your mind blown with these interesting fun facts that will amaze adults and kids alike.
Definition of fact:
noun
. something that actually exists; reality; truth:
Your fears have no basis in fact. something known to exist or to have happened: Space travel is now a fact. a truth known by actual experience or observation; something known to be true: Scientists gather facts about plant growth. Enjoy reading interesting facts?
You can see previously posted daily fun facts here
.
Follow me to save more money!
Don't forget to
follow me on Twitter
for daily deals and freebies. I am very limited on my posting on Facebook due to all their "violations" and such. I don't even like to post kitchen knives on there anymore! Whereas everything has been getting shared on Twitter. Of course, you are always welcome to still follow me on Facebook as well! So don't miss out on all the money-saving offers!
Plus, I share extremely limited-time offers on
my Telegrams channel
, so be sure to follow me there as it is free!
TODAY'S DID YOU KNOW...?
There's a Japanese town that looks just like Sweden, sells Swedish folk crafts, and celebrates Swedish traditions. Sweden Hills, located on the island of Hokkaido, hosts Swedish festivals throughout the year and is popular with tourists.
Speaking of Sweden, check out these products:
A relaxing spa set containing Daily Wash in Violet Cotton, Bath Foam and a handmade candle with the shape of a woman's body. Perfect to give as a gift or treat yourself to a relaxing moment in the bath or shower. DeoDoc's intimate wash and bath foam are formulated with the well-being of the vulva in focus. Both products have a pH of 5 to maintain the natural flora of the vulva. The intimate wash gently cleanses while leaving skin silky soft. The bath foam provides fluffy and long-lasting foam and is enriched with shea butter and olive oil, which has a moisturizing and softening effect on the whole body. Developed by women doctors and gynecologists. Made in Sweden.
Be cool and original with this cool Sweden Men T-Shirt, of the best Cotton, which you can buy from $ 22.99 in your favorite color and with 100s of great Sweden designs and have it in your hands very fast, thanks to our instant dispatch. Besides, you can personalize your Men T-Shirt according to your own mind and preferences. Furthermore, you can find the I'VE BEEN IN Sweden HAVE YOU? on other products like t-shirts, crew neck sweatshirts, hoodies, tote bags, stickers, mugs, tank tops & more; perfect to create new original and amazing items for you or gifts for anyone. Idakoos is a USA based company created 25 years ago, whose goal is designing and sell online the most original and high quality personalized products, to satisfied our customers. Therefore we are your best option to buy custom T-Shirts online. All our products are in stock all time. We guarantee save shipping in the whole World. Buy the perfect product for you now!
This women_#_s tank top is exquisite for day or layering for a night out. Its stretchy and comfortable and super easy to care for. Wear it with a pair of jeans or leggings for school or a casual night on the town. Each print is done one at a time in our USA facility to your specific order. This is a unique water based dye process where the image becomes a permanent part of the garment. We guarantee it will never peel, crack or flake like a regular print. So soft and comfortable you will want to sleep in these! Cold wash recommended. 95 Percent Microfiber-Poly/5 Percent Spandex.
TODAY'S AMAZING FACT:
Curious George has sometimes gotten a little too curious. In one 1947 book, Curious George Takes a Job, the mischievous monkey wanders around in a hospital and comes across ether, a common anesthetic at the time. George samples it and nods off before being revived by the Man in the Yellow Hat.
Speaking of Curious George, check out these products:
Spring has sprung and the world's favorite monkey returns — as curious as ever — in this high-flying, full-length feature. George and his best friend, Hundley, explore all the wonders of the season together — including blooming flowers, baby animals and canoe rides. But when Hundley loses his way, George takes to the skies to find his pal, in a wild adventure that ends with a very fun surprise!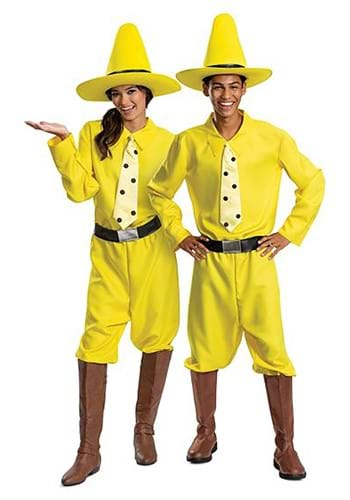 Watch over your monkey friend and rescue him from his own monkey business while wearing your officially licensed Adult Curious George Person in the Yellow Hat Costume! The unisex jumpsuit fastens up the back and is made of soft and comfy fabric the color of a ripe banana (no wonder Curious George was so comfortable around you!) Its pointed collar is decorated with a long polka-dotted tie and the pants can be tucked into your choice of boot. The included wide-brimmed yellow hat has a black band that matches the jumpsuit's attached belt.
The Lunch Box - Curious George is filled with Candy you ate as a kid®. This metal lunch box is printed on all sides and has an embossed front. It measures 7.75 inches wide, 6 inches tall and 3.5 inches deep. It makes a great gift for yourself or friends. Purchase just the lunch box or fill it with your choice.