Do you like reading fun facts?! Well, you're in luck because here we have decided to start posting them daily!
A wise man once said, "Learn something new every day." We might not know a lot about the world yet compared to how much is out there, but we always discover new things about it. What's useless info to some is, to others, cool, amazing fun facts that make the world a stimulating and awe-inspiring place. Are you one of those people who love collecting unexpected pieces of knowledge? If so, prepare to have your mind blown with these interesting fun facts that will amaze adults and kids alike.
Definition of fact:
noun
. something that actually exists; reality; truth:
Your fears have no basis in fact. something known to exist or to have happened: Space travel is now a fact. a truth known by actual experience or observation; something known to be true: Scientists gather facts about plant growth. Enjoy reading interesting facts?
You can see previously posted daily fun facts here
.
Follow me to save more money!
Don't forget to
follow me on Twitter
for daily deals and freebies. I am very limited on my posting on Facebook due to all their "violations" and such. I don't even like to post kitchen knives on there anymore! Whereas everything has been getting shared on Twitter. Of course, you are always welcome to still follow me on Facebook as well! So don't miss out on all the money-saving offers!
Plus, I share extremely limited-time offers on
my Telegrams channel
, so be sure to follow me there as it is free!
TODAY'S DID YOU KNOW...?
Depression-era gangster John Dillinger survived a shootout with the FBI, escaped jail with a wooden gun, robbed police stations, had plastic surgery to change his face and remove his fingerprints, and led the government on a year-long chase that cost them four times the amount he had ever stolen.
Speaking of gangsters, check out these products: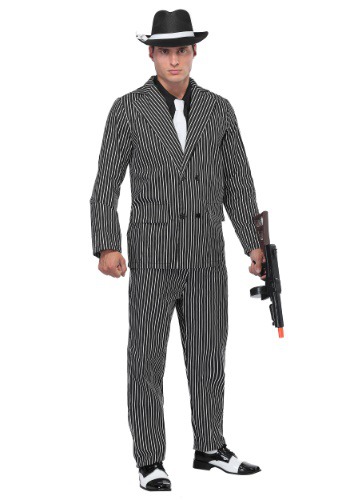 What if there was a costume that could mix your desire for something dapper, dangerous, and daring? What if you could create a persona that would live in infamy? What if it would also (bonus!) make you look really, really good? Well, hold on tight to that Tommy gun, buddy, because we're in on a little secret that's bound to make you famous with your crew: this Men's Wide Pin Stripe Gangster Costume. This getup is timeless and tailored and totally powerful, a look bound to have you riding "shotgun" whenever you're wearing it. No doubt, when you step out of the car and into the party wearing this snazzy suit, you'll command all the attention. Don't be upset if a few guests cower in the corner or peek out from behind the curtains; after all, word of your reputation has preceded you and the mere sight of you may make some people squirm. And what a sight it is! Your costume's classy jacket and pants make (crime) waves with their matching wide pinstripes. You can pair it with a black shirt, white tie, and wingtips, or come up with you own cool combo. Top it with a fedora, tommy gun, and maybe even a (fake) scar or two on your face, just so folks fully understand that you are not to be messed with. And if anyone snitches that the scars aren't real, well...we know just who they'll be answering to.
Lounge in bliss with the Spiritual Gangster Aura Is So Gangster. This relaxed fit sweatpant in Leaf with graphic "Your Aura is So Gangster" on left side of the leg. Made of a soft cozy fabric, with cuffed ankles, this pant will keep you comfy and stylish all day long. Throw on this pant before or after your next yoga session, before heading out on your next road trip, or for your next lazy weekend at home.
Fit right in the roaring 20's and 30's in this double breasted suit. You will look the part at any prohibition party or swing dance. This suit features a 6 button double breasted style jacket with wide peak lapels with bold white pinstripes. The matching pleated trousers come 6 inches smaller than the jacket. This is a classic fit jacket, perfect for any costume party. Made to the same quality specifications as all of our regular suits and tuxedos, we do not sell low quality costume suits.
TODAY'S AMAZING FACT:
Where some people see an unremarkable traffic feature, the UK Roundabout Appreciation Society sees beauty. Proclaiming the humble circular intersection as an "oasis on a sea of tarmac," the US RAS admires the beauty of roundabouts big and small. The president of the association is called the Lord of the Rings.
Speaking of roundabouts, check out these products:
The Roundabout I painting by David Brown is a modern and abstract work of art that will add a unique touch to your home decor. This 24" x 36" piece features an espresso brown float frame with an image brush gel finish, creating an eye-catching look that you won't be able to resist. With its bold colors and contemporary style, the Roundabout I painting is sure to be the perfect addition to any room.