Do you like reading fun facts?! Well, you're in luck because here we have decided to start posting them daily!
A wise man once said, "Learn something new every day." We might not know a lot about the world yet compared to how much is out there, but we always discover new things about it. What's useless info to some is, to others, cool, amazing fun facts that make the world a stimulating and awe-inspiring place. Are you one of those people who love collecting unexpected pieces of knowledge? If so, prepare to have your mind blown with these interesting fun facts that will amaze adults and kids alike.
Definition of fact:
noun
. something that actually exists; reality; truth:
Your fears have no basis in fact. something known to exist or to have happened: Space travel is now a fact. a truth known by actual experience or observation; something known to be true: Scientists gather facts about plant growth. Enjoy reading interesting facts?
You can see previously posted daily fun facts here
.
Follow me to save more money!
Don't forget to
follow me on Twitter
for daily deals and freebies. I am very limited on my posting on Facebook due to all their "violations" and such. I don't even like to post kitchen knives on there anymore! Whereas everything has been getting shared on Twitter. Of course, you are always welcome to still follow me on Facebook as well! So don't miss out on all the money-saving offers!
Plus, I share extremely limited-time offers on
my Telegrams channel
, so be sure to follow me there as it is free!
TODAY'S DID YOU KNOW...?
The coconut octopus sometimes walks on two legs and is named for its tendency to collect and hide inside of coconut shells and seashells.
Speaking of octopuses, check out these products:
Our latest shower curtain collection features bold graphics and floral patterns mixed with our menagerie of creatures, All are printed on a heavy 100% cotton basketweave textured fabric.
TODAY'S AMAZING FACT:
It's estimated that the Colosseum in Rome could hold up to fifty-five thousand spectators - as many as Dodger Stadium can hold today.
Speaking of the Colosseum, check out these products:
This women_#_s tank top is exquisite for day or layering for a night out. Its stretchy and comfortable and super easy to care for. Wear it with a pair of jeans or leggings for school or a casual night on the town. Each print is done one at a time in our USA facility to your specific order. This is a unique water based dye process where the image becomes a permanent part of the garment. We guarantee it will never peel, crack or flake like a regular print. So soft and comfortable you will want to sleep in these! Cold wash recommended. There is a Made in USA Yizzam badge on the bottom left of the item. 95 Percent Microfiber-Poly/5 Percent Spandex.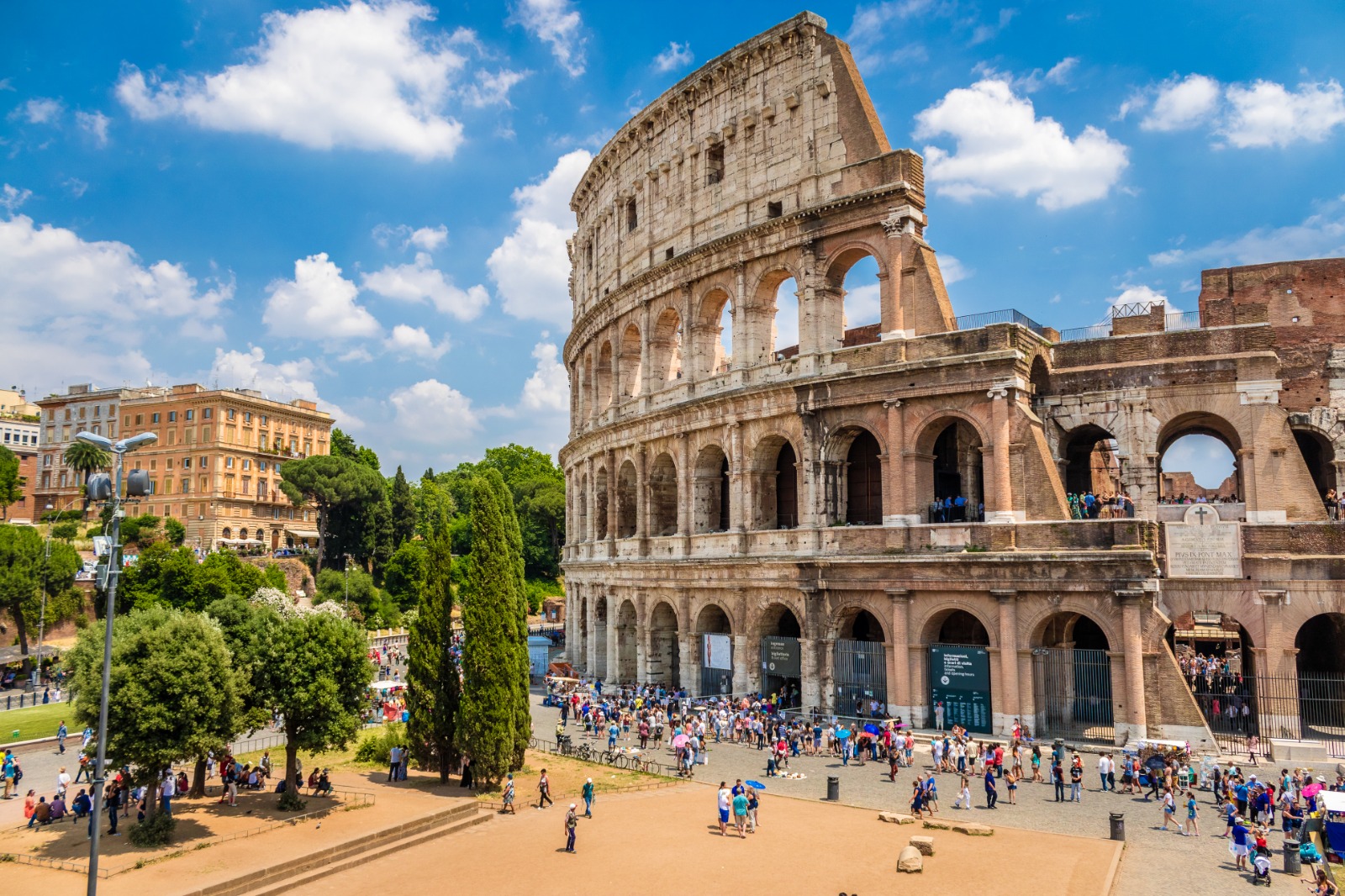 Experience the Ancient History in our exclusive small group tour. Fully explore the Colosseum, Palatine Hill and Roman Forum in a small group of 10 people, led by an expert guide. A guaranteed 10-people group size, skip-the-line service, and an exceptional guide is what makes the VIP Small Group tour stand out. Discover the Colosseum and fascinating area of Ancient Rome, home to crucial political and social decision making and main stage area for entertainment shows. Skip-the-line and step into the Colosseum with your guide, who will bring history back to life as you walk through the first and then second levels of the Amphitheater. Glance down to the Arena stage, where gladiators and exotic animals once fought for their lives in front of thousands of spectators. Proceed to the Roman Forum and Palatine Hill area, famous for its strategic political and social functions. Enjoy incredible views of the Emperor's Palace and ruins of the entire structure still standing today. Your guide will share with you everything you need to know about the Colosseum, its history, role, structure and survival, as well as life in Ancient Rome, the Emperors (each with their own characteristics), rules, games, secrets and society. Feel free to take pictures throughout your visit and ask questions. Dive into Ancient Rome and make memories to take back home for a lifetime.
Capture the unforgettable moments of a past journey or keep your future travel dreams alive with this antiqued sterling silver Colosseum charm. It features a detailed three-dimensional design that is approximately 8mm in width by 8mm in length and has a 4mm core. All of our charms are interchangeable as well as compatible with Reflections and other popular 3mm width bead style bracelets and necklaces.