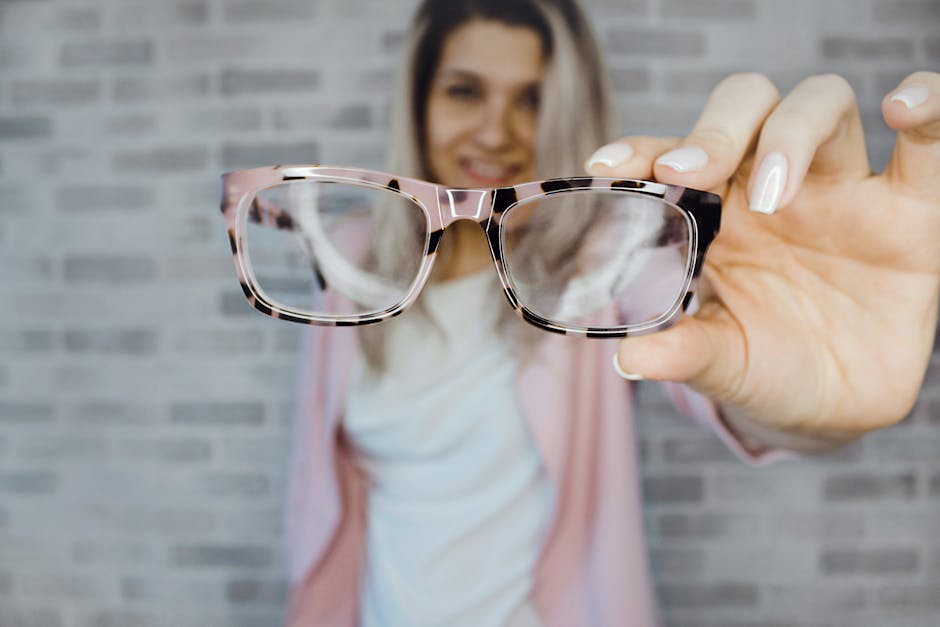 In spite of our strong aversion to spending money on things we could make ourselves, we're just too worried about to deviate from our go-to products. Think expensive conditioner, veggie chips, and, without fail, cleaning products.
If you're like me, you don't have 20/20 vision and have to wear glasses from time to time and glasses are hard to keep clean. Don't get me started about trying to keep kid's glasses clean.
That expensive cleaner you're using on your eyeglasses, however, can be made in your kitchen or your bathroom, for that matter. These DIY
scratch removers for glasses
are easy and incredibly economic friendly.
Real talk: you can't actually remove scratches from your glasses without changing the thickness of the lenses, which would mess with your special coatings or even your prescription. If you don't care about removing that anti-reflective coating, you can have the lenses ground down to the level of the scratch. (Talk to your local eye doctor for this option.)
You can, however, deep-clean the scratches or fill them in to reduce their appearance. These DIY cleaners are super-effective cleaners - in our experience, the fillers work for a few days, but then your glasses are left just as scratched as ever. For a few bucks, you'll have a cleaner more effective than Optic Guard or other popular-but-expensive options.
The All-Natural Method
If you're the type to make your own toothpaste (yep, baking soda is amazing) and try to avoid bringing harsh chemicals into your home, this is the recipe for you - we found the original at
Crunchy Betty
. This mix is totally non-toxic, but that doesn't mean it will taste good. It's also designed to clean glass, so plastic lenses might do better with the next recipe.
What you'll need for success:
*Note - Although it's fine to substitute apple cider vinegar for things like floor cleaners, you'll want the white stuff for this recipe.
Dump all the ingredients into a spray bottle and shake. Every time you use the mixture, shake it up so the cornstarch stays mixed in and doesn't clog the sprayer. Don't spray the mixture directly onto the cleaning surface - instead, spray it onto an old, clean newspaper and wipe the glasses with it. Don't even try to use paper towels - they'll leave your glasses streaky and even more useless than when you began.
If you have a microfiber cleaning cloth, use this after the newspaper for some extra sparkle.
This recipe was designed for cleaning glass around the house - like mirrors and windows - so feel free to use it as such.
The Just-Add-Soap Method
If you don't mind using a bit - technology in your recipe, try this version for a ridiculously good - and cheap product.
Jillee
was our muse for this one. Because it uses a tiny bit of dish soap, you'll want to take special care to keep it away from pets and kids.
Here's what you'll need for success:
1 part warm water

1 part isopropyl rubbing alcohol (or strong astringent like witch hazel)

1 drop soap (whatever brand you prefer)
Again, combine ingredients in a spray bottle and shake before each use. Spray directly onto your dirty glasses - one squirt for each lens should do it - and wipe clean with your microfiber cloth.
This recipe is very good for plastic lenses, and you can use it on sunglasses, too.
The easiest way to remove scratches from your glasses? Don't let them get scratched in the first place.
We know, we know; snore. But it's true - the best way to take care of your glasses is to prevent scratches before they happen.
Store your eyeglasses in a durable, well-cushioned case – not in your pocket or your purse.

Don't ever use tissue or paper towels to clean or wipe off your glasses. The fibers in these materials will scratch the lenses. Instead, keep a soft, clean microfiber cloth on you so you can clean your specs on the go.

Every day - or, heck, every week - clean your lenses with warm, soapy water and dry them off with a soft, clean cloth. (Microfiber is still the winner.)

Be careful with abrasive products like nail polish remover and hairspray: these can compromise the lens coating and leave you more vulnerable to scratches.
If you're frustrated by your scratched lenses, just be thankful you didn't sit on your specs. It could always be worse. With a couple of pocketbook, sparkling clean glasses cleaner in your arsenal, it's really not so bad.
Have you used any of these or other natural ways to removes scratches from your glasses?