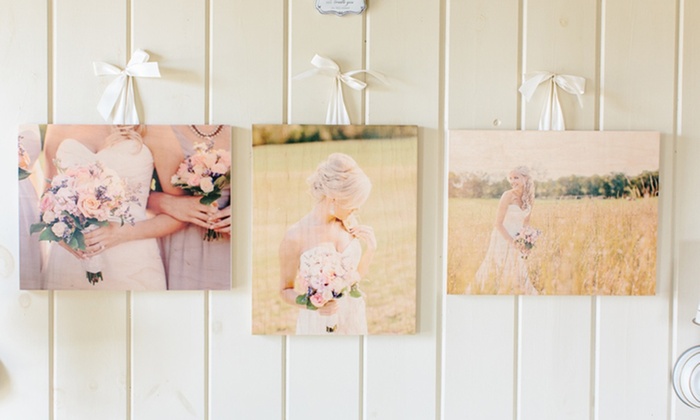 Timeless wood panels add a rustic touch to
personal photos
and arrive ready to hang with a hidden back frame - as low as $14.99!!
hoose from Three Options
$14.99 for one 8"x10" custom wood photoboard ($60 value)
$29.99 for three 5"x7" custom wood photoboards ($80 value)
$39.99 for one 16"x20" custom wood photoboard ($135 value)
---
Custom Wood Photoboards from PhotoBarn
3/4" birch or maple photoboards
Ribbon and twine hanging options
Option for staining or natural finish
Standard keyhole hanging
---
PhotoBarn
"I have no idea how you managed to create something that beautiful. ... I love it, there are no other words." That`s a glowing review from a PhotoBarn customer, who took a chance on the company`s unique photo prints and was more than pleased with the results. Instead of printing images on traditional photo paper, designers print them on high-quality plywood, burlap, or gift items such as ornaments, puzzles, and blocks. The hue of these materials lends finished products a beautifully vintage effect. In addition to being distinctive, PhotoBarn`s products are also eco-friendly—most of the wood comes from sustainable North American tree farms, and the Barnwood frames are constructed from wood reclaimed in and around Knoxville, Tennessee.