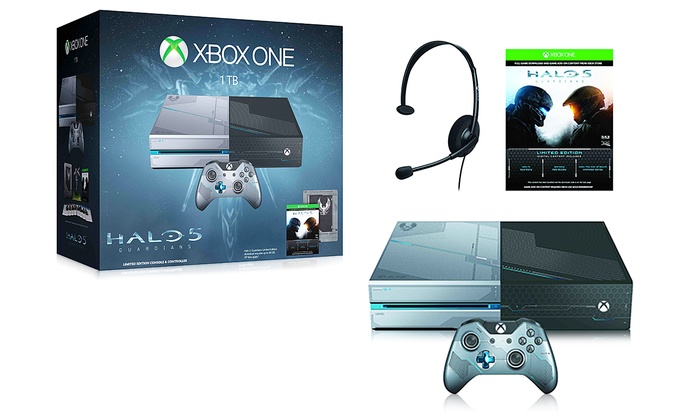 This
glossy metallic Xbox One console
lets you play Halo 5 or watch Netflix in comfort using a streamlined wireless controller.
This bundle releases on 10/20/2015; the game becomes playable on 10/27/2015. This is a pre-sale offer at full retail value. Orders will ship after the official release date.
---
Xbox One 1TB Limited Edition Console with Halo 5: Guardians
Push your old game consoles and skee-ball machines to the side to make room for a cutting-edge Xbox One console, which lets you jump into giant high-definition game worlds, stream movies over Netflix, or watch live sports. This bundle includes Halo 5: Guardians, the latest in the acclaimed series of first-person shooters, in a Limited Edition with bonus content.
Xbox One Console
The Xbox One lets you rapidly snap between games, music, movies, and TV as easily as changing channels. In addition to playing technically stunning new releases, the system even boasts backwards compatibility with some Xbox 360 games. A wireless controller lets you lounge on the couch without leaving a cord dangling to trip up pets and housemates.
Halo 5: Guardians
The latest title in the fast-paced first-person shooter series features a sweeping campaign spread across three worlds, in which up to four players team up to gun down alien threats and save the galaxy. Classic competitive multiplayer modes such as Team Deathmatch return, as well as a huge new Warzone mode where up to 24 players can hop into pitched battles. The game also includes the animated
Fall of Reach
series, which provides additional backstory for longtime fans.
Specifics
Futuristic console exterior with metallic blue accents inspired by UNSC technology
Custom sound effects from the Halo series
1TB hard drive
Includes wireless controller and headset
Condition: new
Product dimensions: 12.44"x7.44"x14.25"