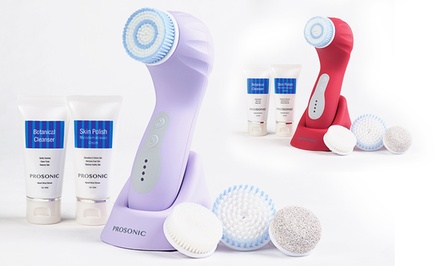 Groupon: ProSonic Cleansing Brush Set with 4 Brush Heads, Cleanser & Microderm Cream $69.99
The waterproof device uses oscillating brushes to exfoliate and rejuvenate skin, reducing fine lines and removing dirt, makeup, and oil.
Set Contents
One wand with universal charger
One brush head for normal skin
One brush head for sensitive skin
One brush head for all-over body cleansing
One pumice stone for especially rough or dry areas
1 fl. oz. botanical cleanser
1 fl. oz. skin-polish microdermabrasion cream
---
ProSonic Glow Cleansing and Exfoliation Brush Set
The cleansing brush by ProSonic gently cleanses skin with a rechargeable and waterproof cleansing wand that's safe for use in the shower. Three speed options oscillate the device's brushes to rid façades of dead skin cells, makeup, and oil and to reduce the appearance of fine lines, dry skin, and blemishes. The included botanical cleanser and microdermabrasion cream shrink pores and tighten skin to leave faces as shiny and youthful as a freshly hatched penny.
Waterproof and rechargeable cleansing wand
Three speed options
Removes makeup and dead skin
Helps promote healthy skin cell growth.
Simultaneously cleans and exfoliates
Gentle enough to use twice daily
Helps reduce the appearance of wrinkles, fine lines, pores, and clown paint
Helps remove blackheads
Designed for all ages and skin types
New model's battery lasts longer
1-year warranty
Dimensions: 8"x3.36"x6.25"