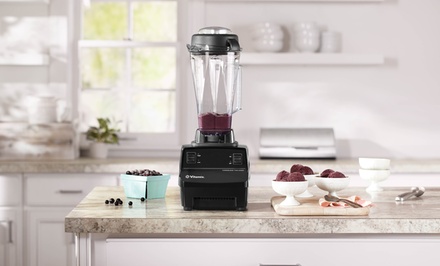 Groupon: Vitamix 2-Speed Blender (Certified Reconditioned) $259.99
With a single Vitamix blender, home chefs gain the power to create creamy soups, fruity smoothies, and chopped vegetables at the touch of a button. The Vitamix`s laser-cut stainless steel blades and hammermill follow the directives of high/low controls and a variety of functions to pulverize ingredients in its BPA-free 64 fl. oz. container. To safely add ingredients mid-blend, chefs need only remove the vented lid`s plug and drop in the extras.
Process whole foods and vegetables
Functions include chop, cream, blend, heat, grind, churn
High/low controls
3" hardened, laser-cut stainless steel blades
64 fl. oz. container doubles as a wizard hat
Tamper-proof collar that doesn`t touch the blades
Spill-proof vented lid with a removable plug
Includes a spiral-bound book of recipes
BPA-free Eastman Tritan copolyester container
Self-cleans with water and dish soap
5-year warranty from manufacturer
Condition: certified reconditioned
Model numbers:

Black: 1914
Red: 1915
Espresso: 1916
Turquoise: 1917
Cobalt blue: 1918

Dimensions: 8.8"x9"x20.25"
Weight: 12lb.