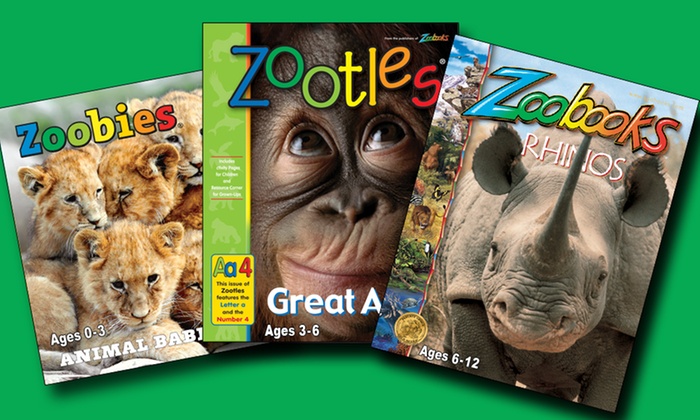 Don`t miss out on this deal!
Grab Zoobooks, Zootles, or Zoobies Magazine; 1- or 2-Year Subscription for $10 or $19
!!! All-things-animal magazines written for kids 12 and younger teach about anatomy, habitat, and socialization in photos, articles, and games.
Choose Between Two Options
$10 for a one-year subscription to Zoobooks (9 issues; ages 6–12), Zootles (6 issues; ages 3–6), orZoobies (6 issues; ages 0–3) (a $29.95 value)
$19 for a two-year subscription to Zoobooks (18 issues), Zootles (12 issues), or Zoobies (12 issues) (a $59.90 value)
Zoobooks, Zootles, or Zoobies Magazines
The pages of
Zoobooks
and its sister magazines excite the minds of pint-size animal lovers with facts and photographs of winged, scaly-skinned, and furry-faced creatures. As a guide for children aged 6–12 to the world's most fascinating animals, birds, reptiles, and insects, each issue of
Zoobooks
unfurls to 20 full-color pages of lifelike animal drawings, photographs of animals in their natural habitats, puzzles, and anatomy diagrams.
Zootles
hones in on kids aged 3–6 with cartoons, wildlife photography, and an illustrated animal bedtime story, a perfect match for beginning readers and self-reflective spider monkeys.
Zoobies
, the youngest member of the family, surprises readers aged 3 and younger with its lift-the-flap and peek-a-boo features and can survive the wear and tear of super-strong baby hands with its durable, toddler-tough pages.
Animal magazines teach youngsters about habitats, anatomy, and socialization
Vibrant full-color photographs and illustrations
Puzzles and cartoons to challenge growing brains
Zoobies recommended for ages 0–3; Zootles recommended for ages 3–6; Zoobooksrecommended for ages 6–12