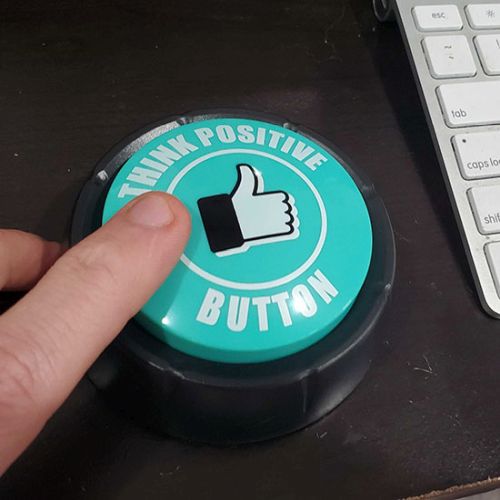 FREE - Think Positive Button - Just give it a push to hear a positive encouraging message, which EVERYONE can use right now! 6 total unique sounds! BATTERIES ARE INCLUDED. Fun to keep on your office desk or anywhere you want a quick cheerful pick-me-up for yourself or others. Consider sending one directly to someone you're thinking of!
Words of affirmation are an everyday choice, a choice that we make with our thoughts and feelings. So it's time to think positive! The more often you use encouraging words, the quicker you'll
lift your self-esteem
, see new opportunities and feel empowered. What better way to achieve this than with a button that has 10 pre-recorded affirmations to get you through your day!
"Today is Your Day!"
"You are #1!"
"You can do it!"
"Applause Sound"
"Laughing Sound"
"Wooo Sound"
The Affirmation Button requires 2 x AAA batteries which are included YAY!!.
NOTE: This item is absolutely free, but please note that Closet of Free Samples does not ship out freebies and free samples! Also, Closetsamples.com does not offer free stuff or free samples for sale. Follow the instructions provided above to request the listed freebies. If you need to contact a specific merchant, please follow the link to that merchant's own website.
Visit Closet of Free Samples website every day for more new freebies and deals.