Looking for a romantic Valentine's Day gift for your boyfriend or girlfriend? We've put together the ultimate gift guide filled with unique Valentine's Day ideas to show your partner you love them. Whether your partner loves sweet treats or something sexier, our gift suggestions will put a smile on their face. Plus, share the love with your extended family.
We've found cute gifts for your kids, parents and even your pets. Scroll down to shop the best Valentine's Day gifts for everyone in your life.
Keep your eye out as we will update our guide until Valentine's Day!
Gifts for Her
Hearts Aglow Tote - $9.49 (reg $15)
Spread the love by carrying your heart wherever you go.
FEATURES
• 17.5" L x 11.5" H x 3.75" W
• Handle drop: 9"
• Saffiano-textured heart in the center of the bag

MATERIALS
• Nylon
Ultra Sexy Heart Body Mist - $7.99 (reg $15
A lighter version of the Ultra Sexy Heart Eau De Toilette, just in time for the summer! A fruity-sweet fragrance with a softer, airy and fresher feel. 5.1 fl. oz.
NOTES
• Luscious Cherries
• Rose Petals
• Decadent Chocolate Marshmallow

Ultra Sexy Heart Eau de Toilette - $9.99 (reg $15)
Ultra Sexy Heart will win your heart! Scented like gifts of love—Maraschino cherries, irresistible red rose petals and decadent chocolate marshmallow—this intoxicating floral gourmand will capture the heart. 1.7 fl. oz.
NOTES
• Top Notes: Maraschino Cherry, Mandarin, Blackberry
• Mid Notes: Red Rose Petals, Jasmine Petals, Vanilla-Orchid
• Bottom/Dry Notes: Chocolate Marshmallow, Benzoin, Australian Sandalwood Oil
MOOD
• Sexy & sensual

Ultra Sexy Pink Body Mist - $7.99 (reg $15)
Make a splash this summer with the Ultra Sexy fragrance line. Lighter than perfumes, which is perfect for summertime. Flirty, romantic or smoldering, these scents are for women youthful in spirit or for a fresher, airy feel for the warmer season! 5.1 fl. oz.
NOTES
• Fresh Raspberry
• Blushing Peony
• Chiffon Musk Accord
A lighter softer version of the Ultra Sexy Lace Eau de Toilette just in time for the summer! A floral ambery fragrance with a softer, airy and fresher feel. 5.1 fl. oz.
NOTES
• Provocative pear
• Smoldering magnolia
• Laced with a hint of sensual golden amber

Velvet 3-Piece Set - $30.00
Luxurious blend of luscios fig, sumptuous rose and warm patchouli. Opulent glass bottle with velvet cap.
Valued at $54, the set includes:
• Velvet Eau de Parfum, 1.7 fl. oz.
• Velvet Pearl Shower Gel, 6.7 fl. oz.
• Velvet Body Lotion, 6.7 fl. oz.
Show that your love is "this big" with this creamy white Illumination with a sweet embossed message, and cut out stars.
Fragrance Warmers are ideal in small rooms and spaces.
Wax products from Country Scents Candles. are 100% soy wax that holds more fragrance and lasts longer compared to scented gels, oils, or sprays.
The soft glow of the halogen bulb creates the ambiance and fragrance of a lit candle, without flame, soot, or other pollutants.
The elegant home decor is the focus of every Country Scents Candles products, and each is made to compliment your personal taste.
Simply add wax melts to the dish, turn it on, and enjoy your favorite fragrance as it spreads through the room.
An instant classic - this fragrance is a luscious fusion of citrus, cherry blossom, hydrangea, apple and peach; with a hint of blondewood.
This fragrance oil is infused with natural essential oils, including orange and grapefruit.
Note Profile:
Top: Apple
Middle: Lilac
Base: Musk
An instant classic - this fragrance is a luscious fusion of citrus, cherry blossom, hydrangea, apple, and peach; with a hint of blonde wood.
Ingredients: Sea Salt, fragrance, FD&C Colorant
Note: Any color has the possibility of staining fabrics or surfaces.
Recommended Use: Approximately 8oz
An instant classic - this fragrance is a luscious fusion of citrus, cherry blossom, hydrangea, apple, and peach; with a hint of blonde wood.
This Fizzy Bomb is a diameter of 2.5 inches and has an approximate weight of 4oz
Ingredients: Sodium bicarbonate (baking soda), citric acid, sea salt, fragrance oil, sunflower oil,light bath safe colorant.
Note: Any color has the possibility of staining fabrics or surfaces.
Gifts for Kids
Our Strawberry and Cherry Valentine's Scratch and Sniff Cards are perfect for kids, class parties, or any Valentine's event!

Includes 28 cards and envelopes

4 incredibly cute designs to choose from, each with their own message

Scratch and sniff to reveal a cherry or strawberry scent
Cotton/Poly Blend

Made in USA and Imported

Kids Happy Valentine's Day Outfit

Children's Valentine clothing

Prints are super soft and professionaly applied to the fabric. You can't feel the print on the fabric keeping the fabric soft and comfortable. These prints are not an iron on transfer, which means it doesn't crack or peel. This outfit will continue to feel and look great even after many washes.

Valentine's Day's 3/4 Sleeve Raglan

Professionally designed apparel by 7 ate 9 Apparel. We carry clothing for newborn boys and girls as well as first birthday party outfits.
Fashion necklace with box; Chain Length: 17.72"+2"; The heart size about 1"*1".

Big Sister Middle Sister Little Sister Necklace Set;
Our valentine's day stampers are BPA free, non-toxic and passed CPSIA and ASTM testing. Approx. stamper size: 1.5 inches tall, 1 inch in diameter

24 DIFFERENT Valentine's Day designs such as hearts, love, xoxo, I'm Yours, Be Mine, lips and more!

Each plastic stamp comes pre-inked. No need for extra ink pad

Perfect for Valentine's Day!

Great as party favors, arts & crafts at home, making valentine's day cards, scrapbooking, and decorating stationery
Everyone in her class is assigned to make an extra-special Valentine's Day card for one person in the class. Pinkalicious creates a magnificently pinkerrific card. Will the valentine that she gets in return measure up?

With short and simple rhyming text, the Llama Llama board books introduce Llama Llama to babies and toddlers before they're ready for longer full-length stories. And their small size and durable pages are perfect for little hands.
In Llama Llama I Love You, little llama shows his friends and family how much he loves them with heart-shaped cards and lots of hugs. What could be sweeter than Llama Llama on Valentine's Day?
Just place your aroma bead sachet in velcro pouch in my back. And set me around your home or office and enjoy the fragrance in the air as you walk by!
Gifts for Men

Spritz on the fresh scent of Black Suede, a classic blend of woods, greens and modern leather—now available in this year's must-have, limited-edition collectible iconic boot decanter. 5 fl. oz.
NOTES
Top: Sicilian Lemon
Middle: Suede Accord
Dry: Amber
Men's Crystal Accent Watch - $49.99
A classic style set with Swarovski® crystals, just for him.
FEATURES
• Swarovski® crystals
• Bracelet, 8" L with 40mm diam. case
MATERIALS
• Gunmetal plating
• Swarovski® Crystal
• Stainless steel
The Parliament is a leather bi-fold smart wallet for those that want maximum storage and minimum bulk. This smart wallet comes in 4 different colors and just over a 4.5 out of 5 star rating. It offers several features including: a quick card access mechanism, worldwide traceability, a solar-powered tracker card, RFID blocking technology, and is made of Premium European leather.
I got one of these for my husband and he absolutely LOVES it!
Gifts for Anyone

CanvasChamp helps you turn your photos into beautiful art on canvas! To decorate your home or office walls, their photo canvas prints are one of the best options to have a personal gallery of your own at your personal space. Or even when you want to give a unique gift to someone, you can make the giftees relive treasured moments in the form of archival-quality images on canvas. They have some unique viewpoints of their arts:
1. Skilled artisans handcraft wooden frame/stretcher bars from sustainable pine forests.
2. Their Canvas prints provide the highest durability and best color-vibrancy due to a unique coat of poly-cotton on their canvases.
3. Authentic and classical-grade canvas
4. Their canvas prints are ready-to-hang right out-of-the-box. The canvas has hanging hardware pre-installed.
CanvasChamp is one of the leading online canvas printing company producing top-notch canvas prints for any of your memorable photos (digital or printed photos) and artwork.
Click here to start your order.
Adult Themed Gift Ideas

Looking for something a little bit more adult? Then you may appreciate my Sexy Valentine with Lovehoney Review with a couple of nice options to consider as well!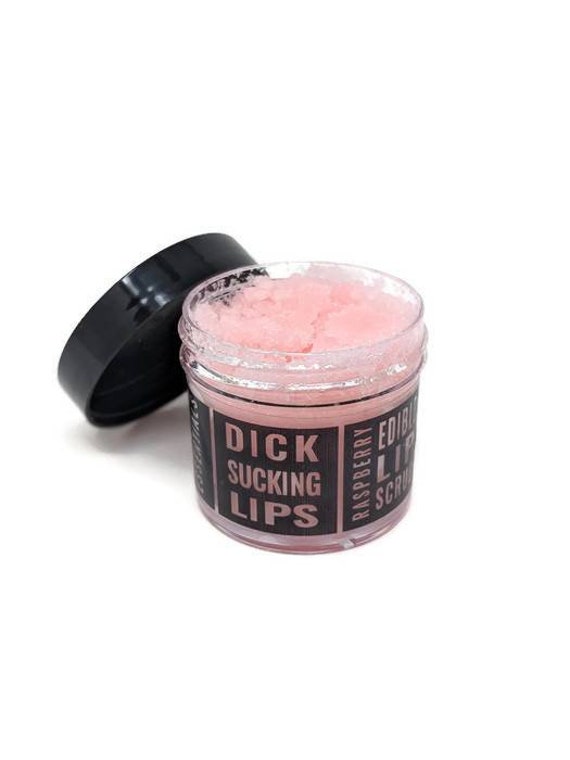 This all natural, organic, lip sugar scrub is made with Raw Coarse Sugar, Coconut Oil, Avocado Oil and a natural coloring. Perfect addition to your daily facial routine to help exfoliate those gorgeous lips. All natural so exfoliate gently and lick it off if you choose! Pick your favorite flavor of magical candy oil flavoring. Comes in 2oz jar so it fits nicely in your essentials bag but lasts for months! This product is handmade, vegan, cruelty free, all natural, organic, paraben free, and made in small batches.
*Prices are subject to change. Pricing is valid at the time of original posting of when the product was added.