**Warning** This is a post meant for adults aged 18 and older. If you`re under 18 or are easily offended, please head back to our homepage and check out some of our other amazing posts.
Valentine`s Day is right around the corner. Whether you have a significant other that you want to spice the evening up with or you`re just going to celebrate "Singles Awareness Day" - everybody deserves to have a good nice. Alone or solo - it doesn`t matter. I`m always up for a little adventure and trying new things. When I heard about the MysteryVibe Crescendo, I was super interested in seeing what it was. I mean, there`s so many adult toys on the market and many are very similar to each other. Generally it`s just does it vibrate or not and to what intensity level. Oh yea, and pick your favorite color. I mean, that`s great and all, but what about for those who want to try something different or simply get tired of the same old thing? Well, that my friends is where the 
MysteryVibe Crescendo
comes in. While it`s price tag is $199, it is 
well worth it
!
Here`s some information on it:
MysteryVibe brings mainstream talent and innovation to create immersive pleasure experiences and empower us to reach new heights of pleasure. Designed by experts and perfected in collaboration with 1,000 users from 50+ countries, MysteryVibe`s flagship product,
Crescendo
, has changed the way people perceive and talk about pleasure in a mainstream way. MysteryVibe is loved by experts and media with prominent features in Glamour, WSJ, CNBC, FastCompany, Guardian, Der Spiegel, TechCrunch, Standard and countless others. They have won numerous awards including the Virgin #VOOM2016 Export Award and UK Young Guns 2016.
Crescendo
is the world's first body-adapting vibrator. You can simply bend it with your hands to the shape you want to reach, discover and stimulate new erogenous zones in your body. Crescendo is also the first and only 6-motor vibrator. So you can make any vibration pattern - simple or intricate, to suit your every mood. With the companion app, you can download countless vibes to make Crescendo truly yours. Everyone can play with Crescendo, men, women, all genders, orientations, singles and couples. Crescendo is designed to adapt to all body shapes and vibrate to suit your every mood.
HOW DO I USE CRESCENDO?
Bend Crescendo with your hands to take any shape your body desires. Reach those special spots that make you go wild or discover new erogenous zones you didn`t know turned you on. Cycle through the 12 hand crafted vibrations on Crescendo simply with the < / > buttons and find your perfect pattern. When you are looking for a new adventure, download new ones from the App. Love the gentle or the tumble - cycling through 16 power levels with - / + you are sure to find the right intensity for your pleasure. Use it for solo play or couple play. Explore and discover new heights of pleasure.
As soon as my 
MysteryVibe Crescendo
arrived I jumped at the chance to trying it out. I mean I took the photos (before use of course) and downloaded the app. I even checked out the getting started guide. I have to say, this was certainly different from I`ve experienced in the past! This vibe comes with 12 pre-loaded vibrating settings, but if you don`t like any of the pre-loaded settings, you can change them and save the ones you do like within the app. While this all sounds difficult and confusing, just following the guide will make things easy. I found no problems navigating the app or the guide. Now let`s get down to the good stuff. Sure, I can repeat the same information that`s already stated, but you want to know how well does it work, does it feel good and all that. Well, in short the answer is yes. It works great, user friendly and lot of fun. The flexibility is what`s really unique to me because you can make it into different designs so it can be like a new toy every time. Of course, you can keep the same style every time you use it as well. If you want to get it back in a perfectly straight position, you can without having any notches or bends in it. After bending it around, I was able to get mine perfectly straight - which doesn`t usually happen for me. Generally, once I bend something out of shape, no matter how hard I try, it never gets perfectly straight again. With the MysteryVibe Crescendo, it wasn`t an issue at all. It just "clicks" back into place and there you go! So you can have all sorts of fun with thing! The only use that really is not advised is anal due to the lack of a secure flared base. I mean, if you want to use it for that I won`t stop you, but again, it`s highly advised to avoid it for that sort of use. The
Crescendo
comes in at 9 inches in length and has a maximum diameter of 1.75 inches. It is covered in silicone,which is wonderfully smooth and grips well during use, but the internal section houses a firm bendy section and the motors. Unlike other vibrators, not only is this one one 100% waterproof (safe for the shower or any water play), but it is also USB rechargeable. You know what that means? No more batteries!! The downfall to this is if you have no discreet place to charge it and you have children. So this can be a plus or a minus depending on the situation, but save money on the batteries definitely sounds much nicer to me!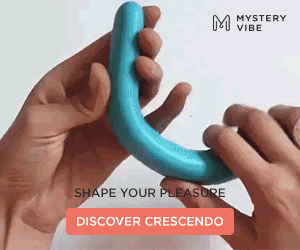 When you`re ready to play, there are only 4 buttons so it`s easy to figure out and easy to use. Plus, you can also control it via bluetooth with the app. Pretty convenient if you ask me! If you`re confused, the FAQ section of the site is a great place to look because they have image guides and a lot of details that tells you everything you need to know about using your new toy. Overall I am
very
please with my new toy, however it`s not 100% perfect. It does make a clicking noise when being put in to some positions, however I have not yet seen this have a negative effect on the performance or durability of the vibe. It can just be a bit distracting, however, if it doesn`t really bother you, then you can tune that clicking out and continue enjoying yourself. The vibrations themselves have a nice range. You can get a low vibration or a pretty good intense one. This was something that definitely impressed me. Usually there`s too little or too much, but the 
Crescendo
was able to get it just right. At the end of the day, though, the ultimate question is - is it worth the price tag and does it please? My answer is definitely worth it and definitely pleases! Of course, don`t take my word for it, get one to try for yourself!
a Rafflecopter giveaway
**Please note for privacy and discreet reasons, we will not be posting winners publicly for this particular giveaway. Winners (2 winners selected) will be connected via email in the same manner; we are just wanting to respect users privacy for this sort of giveaway.