Even if you're not a new mom or expecting you HAVE TO CHECK OUT THIS BAG!!
The Baby By
Thirty-One City Park Diaper Bag in Whisper Grey
is a part of the new
Baby by Thirty-One line
and is way more than a diaper bag! All the functionality of a large diaper bag, but with the modern style of an urban tote. Lots of interior and exterior pockets, including a thermal zipper pocket and hidden cell phone pocket. Carry it as a tote, or sling it over your shoulder with the adjustable crossbody strap.
Key features:
Nylon exterior with coordinating Runway Mini Dot polyester lining
One interior thermal zipper pocket and six elastic pockets
Five exterior flat pockets; one with magnetic closure
Exterior hidden cell phone pocket
Faux leather handle grip
Adjustable crossbody strap
Zipper closure
Monogramming and personalization options available
15"H x 16.25"L x 6"D
12" handle drop
Since learning of the new
City Park Diaper Bag
from Baby By Thirty-One I was dying to get it! I paid for this out of my pocket so I definitely was not compensated in any way shape or form for this review. However, I love the bag so much I just had to share!
First off, I know it is pricey, but hear me out before you go running - it is totally worth it!! And I'm about to tell you why.
My kids are no longer babies nor am I expecting, but my plans were to use this bag as an everyday bag/purse. The bag is large, but not overdoing it. The style and shape are honestly perfect and does not reflect the appearance of a standard diaper bag - which is why I believe it makes it so much more appealing. You have a lot of pockets and organization space, a HUGE plus whether you're a mom or just a busy woman always on the go. The outside of the bag has 5 large pouch pockets and 1 cell phone pouch, which is a signature design of Thirty-One bags. The way it is styled, you have 2 pouches on one part of the bag, one pouch on each side (perfect for drinks, bottles, etc), and then a large snap pouch on the back of the bag. Above that is where cell phone pouch is located. So a lot of places for when you have to "grab and drop" things in the bag and don't have time to actually put them away.
Then, you have two ways of carrying the bag. You have the padded shoulder straps, which are quite comfortable to wear when it's loaded down might I add. Then you also have the adjustable crossbody strap which clips on and off. I love this because I keep it in my bag for when I may need to give my shoulder a break and you don't have to leave it attached. Nothing worse than an attached long strap just hanging from the bag! So that is certainly not an issue. The clips the strap attaches to can also adjust as a clip ring - as in attaching keys using the
Thirty-One Hang-It-Up Key Fob
. This is a great way to prevent losing your keys!
On the inside of the bag is where "all the magic happens." You have a lot of interior side pouches so you can stash bottles, baby items, sunglasses, -- basically, keep your stuff organized! I used the side pouch to place my wallet so it doesn't get buried! There are 6 of these pouches total so lots of organization room. Then, as if that wasn't cool enough, they have a large zipper pouch. However, it's not just a zipper pouch, it's a THERMAL zipper pouch. This is perfect to carry that baby food, bottle, or even medication! It's lined so if anything spills, it can all easily be wiped down.
As you see in the photos I took, my bag is using the
Super Swap-It Pocket in the Fab Flourish, which makes changing out bags a breeze and only takes a few seconds. Just grab it and swap! Of course, I don't think I'll be changing my bag out for a while.
Now for those interested in this bag, there are some monogramming personalizations available, but not many due to the design. So you can't use the cute images, just monogramming - the only downfall I had discovered about the bag! Seriously. Otherwise, it's available in the whisper grey (as I have and you see photographed) and the in black beauty.
So is the bag worth it? I'm pretty sure I answered that, but in case I wasn't clear... ABSOLUTELY, YES!!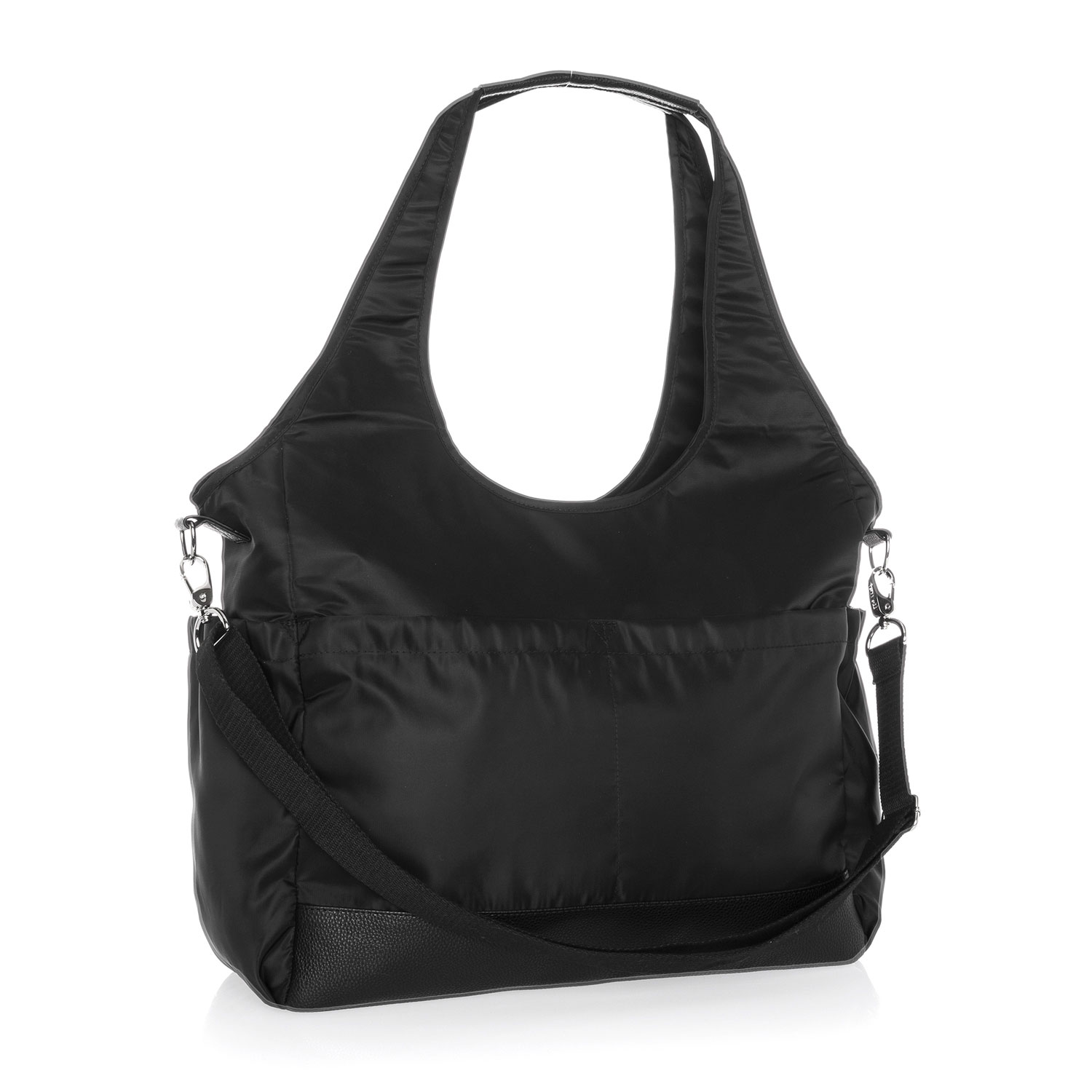 GET THIS DISCOUNTED OR FREE!
Want to get this bag for
FREE
or at a 40% discount? I can help you! To get a 40% discount,
become a Thirty-One consultant and join my team
! You will get access to the consultant marketplace giving you a discount of 40% off your purchase!
If you want to grab this for
FREE
then host a party and earn hostess credits! The more you sell, the more you earn, and the more you can spend on
ANYTHING
from Thirty-One!
This email address is being protected from spambots. You need JavaScript enabled to view it.
if you'd like me to set you up with a FREE Online Facebook party!