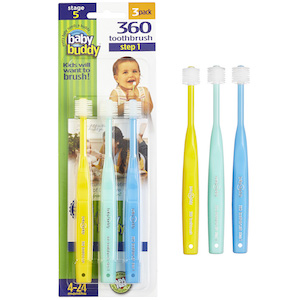 The effectiveness of cleaning your teeth with a manual toothbrush compared to an electric toothbrush is commonly debated today. There's an assumption that the modern day electric replacement is far superior to the good old-fashioned manual toothbrush. The reality is that it's essential to brush your teeth - and whether you're using a manual toothbrush or an electric option, the important factor is completing a thorough, two-minute brush at least once every day. So whatever toothbrush you choose to use isn't important because it's the brushing itself that counts. In saying this, there are some pros and cons to consider when making the decision to use a manual or electronic toothbrush. Here's a rundown of how different toothbrush types can enhance your dental routine:
The Humble Manual Toothbrush: More For Less!
Manual toothbrushes will thoroughly clean your tongue and inside cheeks when you're doing your two-minute routine brush. The circular headed electric toothbrushes perform poorly at cleaning your tongue. However, some do come with tongue cleaners.
Manual toothbrushes are more flexible. Unlike electric toothbrushes with tightly compacted bristles, manual toothbrushes are so easy to maneuver around your mouth. Their flexible bristles can bend back far enough to reach those stubborn teeth at the back hiding food.
They're easy to travel with. How many times have you traveled with an electric toothbrush thinking it was fully charged, but it was actually dead? And without a charger, you had to rely on using the complimentary hotel toothbrush - or even had to run to the corner store where you ended up buying a cheap manual toothbrush anyway.
Manual toothbrushes come in a much larger variety. They're available in soft, medium and hard bristles with a small, standard or larger head. Now if you're an adult with a tiny mouth, you're going to need a lot of luck finding a small head on an electric toothbrush that doesn't have Disney prints all over it.
The Electric Toothbrush: Quality Benefits!
Advanced electric toothbrushes include an automatic timer in their design, which makes it easier for users to know when their two minute brush is complete. This ensures a proper clean is achieved to maintain oral hygiene.
You get what you pay for. While the popularity surrounding electric toothbrushes have made them readily available, dentists recommend that you spend money to get a quality product. ORAL B electric toothbrushes supersede the cheapie supermarket ones that don't offer any real benefits.
An electric toothbrush is very ideal for people who suffer from arthritis, carpal tunnel syndrome and any other painful or movement-restricting conditions. Since the electric toothbrush's rotating head does all the work, the user is exempt from constantly applying effort with their wrists and hands; making dental care a much easier task.
I recently discovered a pretty nice manual toothbrush for the kids that`s unique that both my 10 month old and almost 7 year old can enjoy. I got the Baby Buddy 360 Toothbrush Step 1, Blue
for Jace and the Baby Buddy 360 Toothbrush Step 2, Royal
for Sophia.
Step 1 is appropriate for ages 4-24 months and step 2 is appropriate for children ages 2-12 years. What`s so special about these brushes is that they are the first and best 360° toothbrush, co-developed with the Osaka University Infant Dental Clinic. The circular bristle rings are made with a patented technology to keep them in place and spacing washers between the bristle layers make it more effective to remove plaque and keep the brush clean. More than 10,000 micro-fine bristles effectively remove plaque on the teeth and gums. While these brushes are to be used only with water and aren`t made to necessarily make your breath smell good, they remove 1.8x more plaque than regular toothbrushes! As far as the difference between step 1 and 2 other than the indicated ages is that step 1 uses 0.07mm microfiber and step 2 uses 0.09mm microfiber. While ordinary toothbrushes break apart in a few days from biting, the Baby Buddy 360 Toothbrush is durable enough to last more than 3 months, which is 10x longer than the average toothbrush.
Sophia and Jace both loved their new toothbrushes. It`s not often I`m really able to get them the same thing because of the age difference. Sophia loves to have the same thing as her brother and get that "babying" from time to time so this was a treat for her, even though it`s just a toothbrush. Jace is teething (currently has 5 teeth!) so he enjoyed holding it and chewing it. Sophia thinks it looks silly but enjoyed rubbing her teeth with it as well. It`s soft and easy to hold for baby, Sophia, and even me (even though I`m not the one using the brush). This is a really awesome toothbrush. It looks great and is completely functional. Not to mention it`s always a plus if the kids like it! Anything to making teeth brushing more fun!