If you know me then you know I absolutely love candles and nicely fragranced things. When I was contacted
Mia Bella's Gourmet Products
to see if I wanted to check out their brand, I absolutely could not say no! I'm so glad I didn't either. First, here's some company information.
About Mia Bella's
Mia Bella's

candles embody the combination of green technology waxes, highest quality fragrances, and hand poured quality control to produce the best product a candle lover can buy. A $20

Mia Bella's

candle is often better than candles that cost $50 or more.

Mia Bella's

consumers get full value for their dollars spent.

Mia Bella's

candles are made in the USA with the highest quality ingredients that offer consumers a high-end performing candle/melt but at an affordable cost.
Let's start with the candle. This has a "zingy, zesty, orange-eeee smell that you will never forget" according to the company and guess what?! They're right! My thing is, with candles, I want it to smell good before I burn it and carry out that same fragrance as it burns. I mean, what's the point of a candle to smell good when you take off the lid but not while it burns? Well, this candle definitely carries the fragrance out. I'm used to candles taking a while for the scent to start to come out, but with this one, literally within 5 minutes, I could smell it. I lit it, went to the kitchen to fix something to drink, came back in and my bedroom smelled of the candle. So, for me, that's pretty impressive.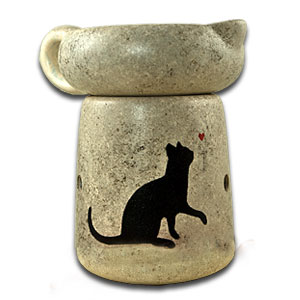 Next, I tried out the Goldfish Mia Melts - Odor No-More Scent in the Handpainted Cat Simmer Pot with Bulb. These two go hand in hand together. The simmer pot is absolutely adorable and unique to other wax melt dishes I have owned. First off, it has an adorable cat image on it. Anybody that knows me knows I love cats as I have 11 of my own and volunteer with a local cat rescue called Spaymart. So the theme was perfect for me! Of course, besides how cute it is, it's durable and well made. What really makes this stand out, though, is the tea pot designed melt dish. It looks like a shorter and wider version of a tea cup with a little spout. The biggest challenge with wax melt dishes, I find, is that when it's time to pour out wax to change or clean it out, you have a standard dish that you have to very carefully remove and dump and it gets all over. With this one, the dish is deeper than most, allowing plenty of room for you wax to melt without overflowing or even spilling over when you need to dump it. Even better, the little spout guides the wax out when you pour as to not make a mess. So it's cute and amazingly functional!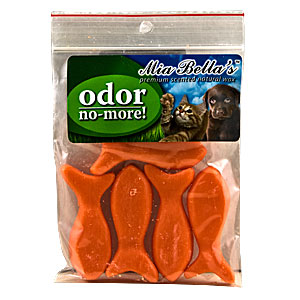 Of course, what good would a simmer pot be without the wax melts?! Well, that's where these adorable fish shaped melts come in! Yes, they go with the whole cat theme, which is much nicer than the standard cube design in my opinion. Now, you only get 6 fish, but most standard cubes you only get 6-8 in a pack depending on brand and company. So don't let the size fool you. Plus, it seems like you get more wax in 1 fish wax melt compared to the standard cube melts. I could be a bit off, but it's how it seems in appearance in person. As far as the fragrance goes, it's a subtle spice sort of scent in my opinion. I'm not totally sure, but either way, it smells really good. It's not as strong as the candle, but these are made to help remove odor. As you can imagine, having kids and pets, the odor is something we worry about and odor control is one thing we work on regularly. So to put these to the test, I had it going basically all day. After I showered, when I entered the room, the room didn't have that "pet odor" to it! For me, I can always notice a good or bad smell whenever I get back into a room from a fresh shower and is the ultimate way I test how well something works. Well, these passed the test!
As you can see, all 3 items were very nice and well worth it! I found that their prices are actually very reasonably priced on top of that. So high quality, quick shipping, great customer service and affordable! Yes, I definitely recommend this place! You will not be disappointed!