Let's be honest. The words "healthy" and "snacks" generally do not go well together in a sentence. I mean snacks are supposed to be sweet, delicious and just overall addicting. Healthy, well, it's just that and usually does not carry over the addicting or delicious parts of things. Well, i can't promise sweet, but I can promise addicting and good with these Peanut Butter Amsety Bars!
About Amsety
We developed the Amsety bar to improve the lives of liver patients by delivering healthy liver nutritional solutions. Nutrition is a critical factor for general health and well-being. Maintaining a healthy diet can be challenging. Changing your nutrition for the better is the first step towards a healthier lifestyle. We have developed our products with a special focus on supporting liver health. Many people have special liver conditions and finding the proper nutritional balance can be challenging. We have developed a simple and convenient solution. We are helping people with special liver conditions by providing products which promote liver health and wellness. In our families, we all have loved ones that are affected by liver disease. We are taking this problem to heart, trying to improve lives with healthy nutrition and lifestyle changes. The Amsety Bar offers a convenient way for you to ensure that you are receiving the proper amount of vitamins and minerals in your daily diet.
Facts About Peanut Butter – Health in a Nutshell
Peanut Butter can have a positive impact on your health and well-being. Many reputable research institutes such as the Harvard School of Public Health have studied the positive effects of peanut butter on health. Specifically, studies at the University of Virginia documented that vitamin E, large quantities of which can be found in peanut butter, may help the liver regenerate by blocking the RSK proteins that develop cirrhosis. In addition, peanut butter is a balanced source of protein that is so important for people with special liver conditions. Furthermore, due to its high content of antioxidant components and vitamins, peanut butter can improve antioxidant activity in the liver and keep it healthy.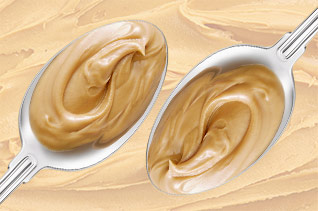 I am a HUGE fan of peanut butter snacks and treats of all sorts. At times, I can even eat peanut butter straight out the jar if I'm going to be honest here. Well, these peanut butter bars from Amsety are absolutely delicious, in my opinion, and they're good for you. They're not sweet, but they literally taste like peanuts/peanut butter without added flavors. 
For those curious, here's the ingredients list:
Organic peanuts, organic honey, organic oats, organic brown rice protein concentrate, organic agave inulin syrup, organic brown rice flour, vitamin and mineral blend (calcium carbonate, magnesium oxide, ascorbic acid, dl-alpha-tocopheryl acetate, niacinamide, zinc oxide, selenomethionine, pyridoxine hydrochloride, riboflavin, thiamin mononitrate, vitamin A palmitate, folic acid, biotin, phytonadione, ergocalciferol, cyanocobalamin), organic vanilla extract, organic peanut oil.
Allergens: Contains Peanut. Manufactured in a facility that also processes Milk, Eggs, Tree Nuts and Soy.
As you can see from the ingredients list, these bars are actually pretty darn good for you. I mean, as mentioned above (from the Amsety site) there are some nice benefits as to why peanut butter is good for you. On top of that, I find they are also filling so they're great for when you're on the go, too. These bars help with your liver health; which is much nicer than having to swallow a huge pill or chew something nasty.
The thing is, from my experience, most "health" bars of sorts taste gross. Straight up nasty. They either have a bad texture, bad flavor, smell bad - the list goes on. With the Amsety bar, I find appearance wise it looks like another nasty bar. It does not look appealing because so many health bars tend to have that same look. However, if you can get past the appearance, this one stands out. The texture is nice, the flavor is fulfilling, and I found nothing nasty about it whatsoever. Basically, this goes hand in hand with that classic phrase, "Never judge a book by it's cover." - This holds true with this. 
Needless to say, I seriously support this brand. It's a good product. It tastes great. Most importantly, it has wonderful benefits to your health as well. They have another flavor to choose from as well so if you don't like peanut butter you can try their "Dark Chocolate Bliss." I do wish they had more flavors to choose from, though. So if I have one thing to suggest for improvements to the brand it is to make more flavors to allow more options to choose from.