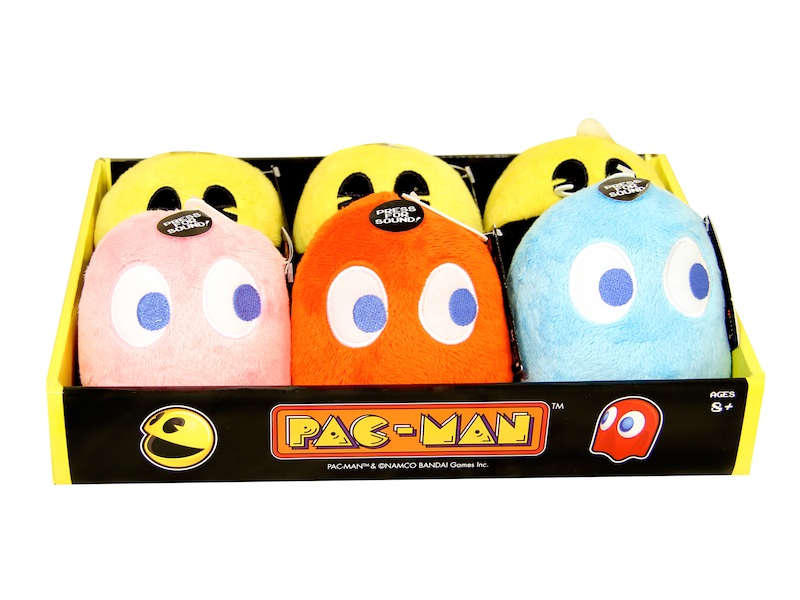 This must be a "Throw back Thursday" type of day because guess what I got in to check out for review? Pac-Man and Ghost Plush from Goldie International! I grew up with Pac-Man and I know it was around long before I was even thought of to be born so this is an "old school" toy and just seeing it brings back those good old childhood memories.
These plush toys from Goldie International are a totally tubular, wicked awesome blast from the past. Cuddle up to your favorite characters from the classic Pac-Man video game. Comes complete with authentic gaming sounds!
Ages: 8 & up.
MSRP: $12.99 each, available at Toys "R" Us and Walgreens.
About Goldie International
With over 20 years experience in the retail toy industry, Managing Director Stephen "Goldie" Goldsworthy founded Goldie Marketing in 2002, with spirit, determination and the support of existing contacts. He began by creating Hey Girl and Rockpool, fashion accessory ranges that launched the company into the Australian marketplace. Goldie Marketing was again propelled forward in 2004, when it began producing licensed figurine ranges, including Mr. Men and Little Miss,Sesame Street and Super Mario. TheSuper Mario Mini Figure Collection has proven to be a worldwide hit, allowing Goldie to create and produce their massively popular MarioKart Radio Control Karts and a new range of Nintendogs + Cats. Loads of exciting Goldie ranges have also been developed, including kites (after acquiring Hart`s Kites in 2006), Bazoomers water balloons,Bubble Planet bubble toys, 3D Activity Playsets, soft toys, electronics, confectionary and even energy drinks. Today the company continues to grow, with the help of Goldie International Inc. and Goldie International (China) Ltd.. Distributing to major retailers across the globe, Goldie Marketing now has offices in Hong Kong, Sanxiang, San Diego and Melbourne. The diversity of Goldie products also continues to expand. Current licenses include AFL, Cricket Australia, Disney, Dora the Explorer, Dr. Who, Go Diego Go!, Hello Kitty, The Smurfs, SpongeBob SquarePants, Top Gear, Transformers and many more. The Goldie Marketing team have always valued family, fun and new ideas. They deliver authentic items designed true to the games, shows, movies, books and the fans. The Goldie mission is to keep people of all ages entertained around the world.
My Thoughts
As I said, I was sent the Pac-Man and Ghost plush and our family loves them! I love them because of the memories of childhood; none in particular, just childhood memories in general. My husband and daughter on the other hand LOVE playing the game. My daughter is 5 and when she saw the plushies she said "I know how to play that! Emily showed me!!" Emily is a family cousin on my husband's side so it really excited her to see something familiar. Of course, what do these end up being used for in our house? War weapons! My husband and daughter like to rough house (never listen to the mom when I tell them not to - figures) and they like play fight including toy swords and even using stuffed animals as whatever weapon they claim them to be. Well since these pac-man toys have sounds, what better use for them then to make them a bomb or bullet of some sort in their fighting war?! Lovely. Seeing these being tossed around violently and of course the sound button pressed over and over again - I deem these high quality! They`re still holding up well without being split apart and the sound surprisingly still works. While my family plays roughly with these, I`m happy to see they are having fun and enjoying themselves. The plush animals are safe so they won`t hurt each other with them or any object in the house for that matter. I also found that these are made well and because they don`t have buttons or anything of that nature on them - all material, they`re safer to be around babies than other plush products I`ve seen. Of course I don`t recommend them around babies, but since we have baby on the mind with Jace being due in about a month I had to make mention of it. Overall we had a great experience with these and I definitely recommend them for all the Pac-man fans out there. They`re cute and from what I`ve seen pretty fun when you use your imagination! Talk about a great add on for Christmas gifts this year!
I received one or more of the products mentioned above for free using
Tomoson.com
. Regardless, I only recommend products or services I use personally and believe will be good for my readers.