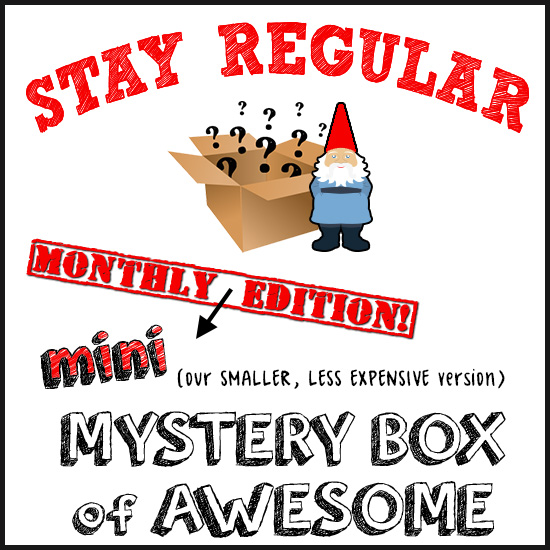 Like the idea of a
mystery box
but don't want to fork out the $25 + per month to join the fun?? Well worry no more friends, we have JUST the box for you. Introducing our NEW Mini Monthly Box of Awesome!
Each month you'll receive a
mysterious mystery box of awesome
mystery packed with mysteriousness. It may be one high-value item or a plethora of smaller items that add up to a HUGE value. Either way, the value FAR outweighs the $9.99 monthly price you pay. And did we mention SHIPPING IS FREE? Well, it is. If ordered the 1st-15th, will ship on the 20th, if ordered after the 15th it will ship on the 5th of the next month. Please note, if you order other items with your mystery box those items will not ship until your mystery box ships.
Product Features:
Smaller, less expensive version of our popular Monthly Mystery Box of Awesome
Value FAR outweighs the $9.99 monthly price you pay
Item(s) will range from useful to fun to "what the?" (Variety is the spice if life my friend)
Mystery
Mysteriousness
MORE Mystery
► Looking for more Subscription boxes and monthly clubs? Look HERE!