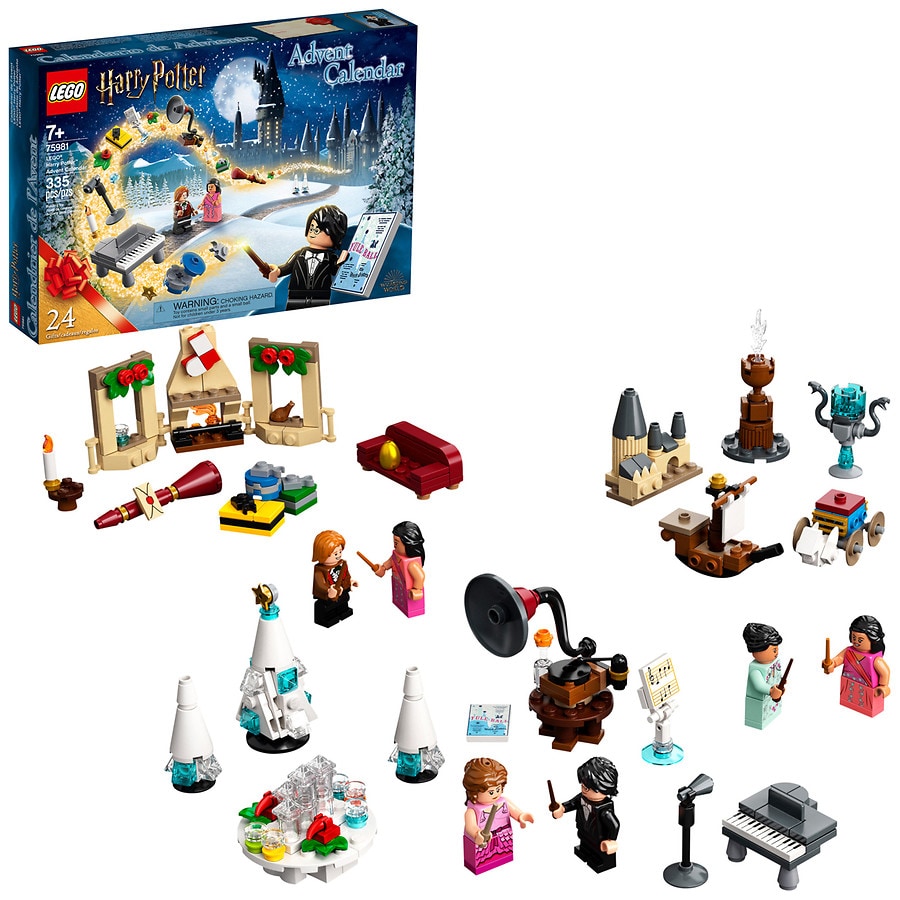 If you love LEGO, then you do not want to miss out on the Walgreens Clearance LEGO items!
Hurry over to
Walgreens
where you can save up to
50% off LEGO sets
including advent calendars! These are the lowest prices we've seen for many of these LEGO sets!
If your kids are enthusiastic about LEGOS, this may be an excellent time to snag a few sets for upcoming holidays and birthdays – or even next Christmas!
Here are a few LEGO highlights…
Young superheroes can recreate Marvel action with this posable LEGO Marvel Spider-Man: Spider-Man Mech (76146). When kids place the Spider-Man minifigure inside the supersized spider-mech no bad guy is safe! Supersized Spider-Man adventures This action-packed Spider-Man mech set and LEGO minifigure will give Marvel superhero fans endless imaginative fun. The giant robot's opening cockpit allows the Spider-Man minifigure pilot to enter the mech. Movable arms and legs enable all-round mobility, and a huge villain-catching web extends from the right hand. A spider breastplate decorates the mechs chest. For extra building fun, download the free LEGO Life interactive building app with cool zoom and rotate features. Popular LEGO building toys with Marvel magic! LEGO Marvel Spider-Man building toys open up a universe of role-play adventures.
Superhero fans can enjoy action-packed fun and adventure with this posable LEGO Marvel Avengers Thanos Mech (76141). When kids place the Thanos minifigure into the buildable mech, the super villain becomes crazier and deadlier than ever! Cool action with a Thanos LEGO minifigure Superhero fans will love this action-packed Thanos mech figure. Kids open the mega machine's cockpit and put the Thanos minifigure pilot inside. Movable arms and legs enable all-round mobility, and the dreaded Infinity Gauntlet, complete with 6 Infinity Stones, means this mechanized Marvel Avengers super villain is equipped to destroy half the life in the universe! For extra building fun, download the free LEGO Life interactive app. Marvel Avengers fun with buildable kids' LEGO toys LEGO Marvel Avengers building toys take kids to a thrilling universe of imaginative role-play.
Little kids will have hours of fun role-playing LEGO Friends' Mia and caring for the cute puppy figures Cookie and Coco with this Puppy Playground toy playset (41396). The best gift toy for animal-loving kids aged 4+, it features a slide, skateboard and spinning merry-go-round for the LEGO dog figures, plus a variety of fun toy accessories to spark imaginative play. Welcome to 4+! This 4+ puppy toy for kids is a fun way for preschoolers and youngsters to learn to build with LEGO bricks. The LEGO slide has a Starter Brick base to make building simple. The playset includes easy-to-follow guides to building and playing to help even first-time builders construct models all on their own and gain a huge confidence boost. Instructions PLUS To add to kids' build experience, Instructions PLUS are available in the free LEGO Life app for this puppy toy for kids. This digital interactive guide has zoom and rotate viewing tools to help kids create the LEGO brick models. It's a super-cool way to build!
Open up a galaxy of adventures for young kids with LEGO Star Wars Kylo Ren's Shuttle Microfighter (75264) from Star Wars: The Rise of Skywalker. The quick-build Star Wars shuttle has foldable wings for flight and landing modes, plus 2 stud shooters for battle action. A Minifigure of iconic Star Wars character Kylo Ren with a Lightsaber for role-playing completes this compact, collectible building toy. Zoom, rotate, and visualize! Instructions PLUS are available via the LEGO Life App! Kids can zoom in on, rotate and visualize the Star Wars Upsilon-class shuttle to guide the real-life building process, allowing even younger children to build independently. Awesome! Enter the LEGO Star Wars universe The LEGO Group has been recreating iconic starfighters, vehicles, locations, and characters from the legendary Star Wars universe for more than two decades.
Mini stunt heroes can put on big shows with this LEGO City Stunt Team (60255) building set! There's a cool toy stunt ATV and motorcycle, 2 stunt driver Minifigures with helmets, and a take-off ramp with flames. In fact, this building toy has all kids need for independent role play that will thrill the crowds! A building toy with a Plus! With this toy playset, you get a simple building guide and Instructions PLUS! Part of the free LEGO Life app for smartphones and tablets, this interactive building guide features zoom and rotate viewing tools that help budding LEGO builders become master builders. Cool toys for kids LEGO City is made for wheels! And with LEGO City vehicle playsets, kids get to let their inner turbo loose with an awesome range of superfast, supercool building toys on wheels! These feature-rich building toys, with fun characters, inspire open-ended, independent play, where children can recreate scenarios that reflect real life in a fun and exciting way.
Score 1-3 day shipping on orders of $35 or more, or you may be able to opt for the free ship to store option if available.
Psst...

I frequently post exclusive deals and coupons on my

Twitter Page

.

Be sure to follow so you don't miss out!